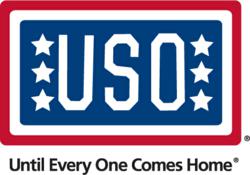 ...While our servicewomen are spending this time away from their families and loved ones I wanted them to be able to take a moment and pamper themselves -Kellie Pickler
Arlington, VA (PRWEB) February 15, 2013
USO tour veteran Kellie Pickler is no stranger to supporting our men and women in uniform, -- it's something she's been doing since she set out on her first USO tour in 2007. Along the way she's lifted the spirits of more than 30,000 servicemen and women stationed in eight countries. So, it's no surprise that the country music singer/songwriter wanted to do something special for our female troops spending Valentine's Day in Afghanistan and Kuwait.
Having traveled to Afghanistan on three out of her six USO tours, the songstress learned first-hand how difficult it is to feel like a lady when you're in the desert. When she found out about "Ladies Nights," hosted monthly by USO centers in the Middle East, Pickler jumped at the chance to be included. Designed to give our female troops a chance to bond with each other, pamper themselves and take a much-needed break from military living, the events are strictly women only.
Backed by a team of her sponsors, Pickler wrapped up some of her favorite girlie items and sent them overseas to our female troops for a special Valentine's Day edition of "Ladies Night." Boxes filled with hard to get items such as nail polish, slippers, manicure kits, chocolates and chick flicks, among other items, arrived just in time for a holiday treat. And while the mega star wasn't able to attend the events in person, she did pop in for a virtual visit on Skype and delivered a special message of thanks and support to troops.
DETAILS:

Donated items were shipped to USO Centers at Camps Leatherneck and Marmal, Forward Operating Bases Sharana and Shindand, Airfields Bagram and Kandahar in Afghanistan as well as Camp Buehring in Kuwait.
Each location received packages filled with nail polish, moisturizers, magazines including the current special edition of US Weekly featuring a four-page spread from her last USO tour, snacks, slippers, make-up, manicure and pedicure products, greeting cards, a variety of chick flicks as well as other products.
Pickler Skype'd in for a LIVE chat with female service members at USO Shindand and USO Kandahar in Afghanistan and USO Camp Buehring in Kuwait. For those locations unable to participate in the LIVE chat, due to connectivity restraints, Pickler pre-recorded a special message of 'thanks.'
Always a strong supporter of our troops and military families, the country music artist recently auctioned off her 2012 Ram 1500 Laramie Longhorn truck (courtesy of Ram) and donated the proceeds, totaling more than $35,000, to the USO in support of USO Warrior and Family Care programs and services.
This past December, Pickler traveled with Chairman of the Joint Chiefs of Staff General Martin Dempsey on her sixth USO tour and delivered holiday cheer and support to more than 6,000 troops serving in the Middle East.
QUOTE:
Attributed to Kellie Pickler:
"I am grateful to all of our servicemen and women for the sacrifices they make, but I have a special place in my heart for servicewomen. They are some brave, beautiful and dedicated women. That's why I wanted to do something special just for them this Valentine's Day. While our servicewomen are spending this time away from their families and loved ones I wanted them to be able to take a moment and pamper themselves."
Twitter Pitch: @kelliepickler supports female troops in Middle East with @the_USO's ladies night party
MULTIMEDIA:
USO Photos: http://bit.ly/Y6r7qq
USO Fact Sheet: http://bit.ly/SNzF4R
# # #
About the USO
The USO lifts the spirits of America¹s troops and their families millions of times each year at hundreds of places worldwide. We provide a touch of home through centers at airports and military bases in the U.S. and abroad, top quality entertainment and innovative programs and services. We also provide critical support to those who need us most, including forward-deployed troops, military families, wounded warriors and families of the fallen. The USO is a private, non-profit organization, not a government agency. Our programs and services are made possible by the American people, support of our corporate partners and the dedication of our volunteers and staff.
In addition to individual donors and corporate sponsors, the USO is supported by President's Circle Partners: American Airlines, AT&T, Clear Channel, The Coca-Cola Company, jcpenney, Jeep, Kangaroo Express, Kroger, Lowe's, Northrop Grumman Corporation, Procter & Gamble, and TriWest Healthcare Alliance and Worldwide Strategic Partners: BAE Systems, The Boeing Company, Lockheed Martin, Microsoft Corporation and TKS Telepost Kabel-Service Kaiserslautern GmbH & Co. KG. We are also supported through the United Way and Combined Federal Campaign (CFC-11381). To join us in this patriotic mission, and to learn more about the USO, please visit uso.org.