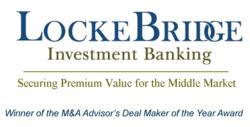 Lexington, MA (PRWEB) February 18, 2013
LockeBridge, a Boston based investment bank focusing on mergers, acquisitions and capital raises, announced today that it has acted as the exclusive financial advisor to Korber Hats in the sale to an undisclosed buyer. Korber Hats has been manufacturing for trade accounts since 1919. It is the last remaining specialty "contract manufacturer" of both straw and felt in North America. The Company manufacturers both straw and felt hats for such prestigious names as LLBean, Orvis, JPeterman, Solumbra, Dorfman-Pacific, Tommy Bahama (DP brand), NYHat, Stetson USA, FWS/Stetson Europe, Capas Headwear, Goorin, Magill (Canada) and Avenel (Australia).
Scott Waxler, LockeBridge Managing Partner added, with "Buy U.S." having more meaning then ever I am hopeful that the last hat manufacturer in the country and one of the few remaining garment manufacturers will flourish over the upcoming years. I am confident that the new Owner will add substantial value by capitalizing on the fine reputation that the Company has enjoyed from nearly a century of leadership.
LockeBridge is a Boston based investment banking firm focused on lower middle market transactions; primarily assisting clients with liquidity events, capital raises, mergers, acquisitions and divestitures generally between $5M – $100M. The LockeBridge team offers seasoned domestic and international expertise generally not accessible to the lower middle market. Through its client-centric business model LockeBridge eliminates conflicts of interest, while delivering high-level expertise, multiple global bids and unprecedented closing rates without charging upfront retainer fees.
An affiliate of LockeBridge Partners, Inc. • Member FINRA/SIPC