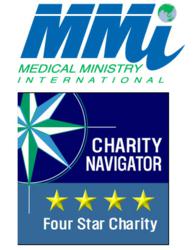 "We are honored to have been selected as one of the top rated charities in the world and it reaffirms our commitment to 'Optimizing Ministry' and getting the most from the gifts that God has provided," stated Samuel Smith, MMI CEO
Allen, TX (PRWEB) February 16, 2013
Medical Ministry International has been awarded the highest ranking possible by Charity Navigator, considered one of the premier charity evaluators.
"We are proud to announce Medical Ministry International has earned a 4-star rating. Receiving four out of a possible four stars indicates that your organization adheres to good governance and other best practices that minimize the chance of unethical activities and consistently executes its mission in a fiscally responsible way. Approximately a quarter of the charities we evaluate have received our highest rating, indicating that Medical Ministry International outperforms most other charities in America. This 'exceptional' designation from Charity Navigator differentiates Medical Ministry International from its peers and demonstrates to the public it is worthy of their trust," stated Ken Berger, President and CEO of Charity Navigator, in a congratulatory address to Medical Ministry International CEO Samuel Smith.
"We are honored to have been selected as one of the top rated charities in the world and it reaffirms our commitment to 'Optimizing Ministry' and getting the most from the gifts that God has provided," stated Mr. Smith. "This rating is a recognition to all MMI staff and volunteers that work tirelessly in over 22 countries in service to the less fortunate. This team provided services in excess of US$80 Million this past year including 25,150 Eye Surgeries plus hundreds of thousands of Vision Care Services, General Surgeries, Orthopaedic, Integrated Health, Physical Therapy, Primary Care, Dental, Water/Sanitation, and Agriculture with 98.5% of donations going straight to our programs!"
In achieving the ranking, MMI has separated itself in a rare category of efficiency and execution to maximize the resources provided by in-kind and financial donations. MMI is considered a Premium Brand in providing capacity building medical programs and training in service to the poor. The MMI business model is designed to optimize resources and eliminate expensive program delivery vehicles that can dilute the impact and value of services provided.
"This is just the beginning as our team is working hard to impact more lives and are motivated by serving that next person in line! We expect our Health Centers, Residency Training Programs, and Project Teams to increase even more medical capacity in the near future. It's a process and we are off to a great start!" stated Smith who joined the Ministry in the spring of 2012.
Forbes, Business Week, and Kiplinger's Financial Magazine have all profiled Charity Navigator's unique method of applying data-driven analysis to the charitable sector. This year the organization employed a new, two-dimensional rating system in its rankings.
Based on information provided in IRS form 990, Charity Navigator analyzed MMI's performance in seven financial metrics: program expenses, administrative expenses, fundraising expenses, fundraising efficiency, primary revenue growth, program expenses growth, and working capital ratio. It also evaluated the institution in several accountability and transparency performance metrics, giving MMI an overall rating of 65.12 on a scale of 0-70.