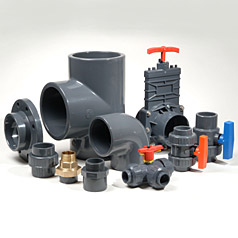 ...with the new WRAS and DWI approval, the PVC Pipe System can also be used for the transportation of potable water!
Hampshire (PRWEB UK) 18 February 2013
The Pipestock.com company are pleased to announce that the full PVC Pipe System range they stock has now been subject to WRAS and DWI and has been approved. Among Pipestock's other industrial pipe ranges which include MDPE Water Pipe Systems, TracPipe Systems and ABS Pipe Systems, the PVC Pipe Range is one of the most comprehensive available online today.
Polyvinyl Chloride – unplasticised, also known as PVCu, is a material which has been specially designed for the manufacturing of PVC Industrial Pipe Systems. The thermoplastic affords a durable pipe system which can withstand the rigour of tough industrial applications. The uses can include the conveyance of liquids such as acids, alkalis and sewerage, meaning that the pipe can be used in water treatment and chemical processes.
Now, with the new WRAS and DWI approval, the PVC Pipe System can also be used for the transportation of potable water.
Potable water is the word used for water destined for human consumption. Water which is consumed by humans needs to be cleaned and purified to an incredibly high standard in order to ensure that there are no health risks. Alongside the initial cleaning and purifying of the water, transportation of the liquid is of the utmost importance. This is why WRAS and DWI approvals are so vital to pipe systems used in the transportation of water for human consumption.
The acronym WRAS stands for Water Regulations Advisory Scheme, which was a scheme set up throughout the UK in order, among other functions, to:
'Develop criteria for testing materials and fittings in order to assess their compliance with Regulators' Specifications for approved products in accordance with the Water Regulations.'
Quoted from http://www.wras.co.uk the official Water Regulations Advisory Scheme website.
In the same way, DWI, an acronym which stands for Drinking Water Inspectorate, was created in order to:
'…provide independent reassurance that water supplies in England and Wales are safe and drinking water quality is acceptable to consumers.'
Quoted from http://dwi.defra.gov.uk/ the official Drinking Water Inspectorate website.
Therefore, the fact that the PVC Pipe System supplied by Pipestock now adheres to these strict water safety regulations and approvals makes it an even more versatile and quality industrial pipe system to purchase.
Pipestock have a comprehensive range of PVC Pipe and Fittings. The PVC Pipe selection includes: PVC Pipe Lengths Class C/D/E Inch, PVC Pipe Lengths 10 BAR Metric and PVC Pipe Lengths 16 BAR Metric. PVC Fittings stocked by Pipestock include: Plain Inch range, Plain x Threaded Inch range, Threaded range, Plain Metric range and Plain x Threaded Metric range. Other fittings carried are PVC flanges including Full Face Flange Sets, Backing Ring Flange Sets, Flanges, Backing Rings, EPDM Gaskets and the tools needed to fit these flanges such as Nuts & Bolts and Spanners. Lastly, there are a variety of Valves & Strainers, Digital Flow Meters and PVC Pipe Accessories to ensure that the needs of customers are catered for.
Pipestock hope to supply many more satisfied customers with this high quality PVC Pipe System which is now WRAS and DWI Approved.
About Pipestock:
Pipestock is one of the UK's premier Industrial Pipework Suppliers supplying specialist industrial pipe systems for the conveyance of compressed air, clean water, dirty water, gas and chemical solutions. Their customers range from sole trader plumbing engineers to blue chip multi-nationals.
Supplying pipe systems such as ABS, MDPE, PVC, Corzan, PPh and TracPipe, Pipestock have most industrial piping applications covered. Customers can order through Pipestock's comprehensive ecommerce website or via phone, fax or email. The Pipestock service provides overnight delivery to around 90% of the United Kingdom and now also delivers to Europe.
For further information contact Pipestock on 0845 634 1053 or via: http://www.pipestock.com