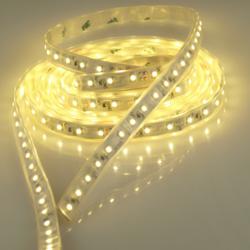 At 200 lumens and <2W per foot, the Amazon LED strip provides an energy-saving solution for a wide range of lighting projects.
Brooklyn, NY (PRWEB) February 18, 2013
LED Waves has announced a new sale item for this week. Normally $219.95, the Amazon™ LED light strip is currently $197.95 with free FedEx Ground shipping within the continental USA. This offer is valid online at LEDWaves.com through Sunday, February 24th, 2013.
This offer is the latest installment of the company's Waves of Savings promotion, wherein each week a new item is eligible for 10% off and free shipping. Customers simply enter coupon code WAVES at checkout at LEDWaves.com to apply both discounts to applicable items.
The Amazon is a cuttable, flexible LED light strip that comes in spools of 6 meters (approximately 19 ½ feet long). It is surrounded by an IP67 rated silicon casing, rendering this strip waterproof and suitable for indoor or outdoor applications. (Cutting lines are indicated on the Amazon light strip after every 3 LEDs. Silica gel and end caps are included to create a water-tight seal. Alternately, for dry environments, customers may remove the waterproof casing and install the light strip using the adhesive 3M tape on the back.)
At approximately 200 lumens and <2 Watts per foot, the Amazon LED light strip provides an energy-saving solution for a wide range of lighting projects. It is available in warm white (2700K), neutral white (4000K), and cool white (5000K), as well as in red, green, blue, yellow and amber. Each strip may be dimmed with a compatible controller and a dimmable LED power supply.
With these capabilities, the Amazon is a quality LED light suited for high end commercial applications. Common uses for this waterproof flexible LED strip include cabinet and bar lighting, retail displays, landscape lighting, signage, soffits, stairs, and cove lighting. Since it has a projected operating life upwards of 30,000 hours, a properly installed Amazon strip may never need to be replaced.
The Waves of Savings product of the week is announced each Monday through LED Waves' opt-in email newsletter, as well as social media channels. Discounts prices may also be applicable to past sale items depending on remaining stock; call 1(800)986-0169 for prices and availability.
About the company
LED Waves is a Brooklyn-based LED lighting supplier specializing in retrofit and customized lighting solutions, as well as Original Equipment Manufacturing. Wholesale pricing by quantity is available across their entire product line. Visit LEDWaves.com for full spec sheets, LM-79 reports and IES files. LED Waves is a US Department of Energy LED Lighting Facts Partner and a Service Disabled Veteran Owned Business.