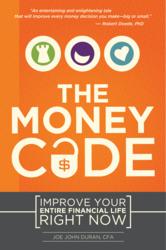 Newport Beach, Calif. (PRWEB) February 15, 2013
United Capital Financial Advisers, LLC ("United Capital") is pleased to announce that "The Money Code" reached USA Today and The New York Times best seller status in its first week of release, coming in as the number one business book in the nation for the week of January 27. It was also number three in the overall finance, advice and miscellaneous categories ranked by The New York Times. The book speaks to the overwhelming need by individuals across the country to find a better way to make financial decisions.
Joe Duran, CEO of United Capital and author of "The Money Code," says, "This book was written as a simple tale to help people really understand how to make decisions and use some of our industry-changing, client-centric tools to help them with their decision-making process, whether they are clients or not."
While most financial books focus on business jargon, this book was written in a way that is easy for anyone to understand, with insight into why people make financial mistakes and repeat them throughout their lives. "The Money Code" also includes clear takeaways to improve upon these decisions, from financial checklists to ways to communicate with others who may think about money differently.
Leslie Dunham, Vice President of Marketing at United Capital, offers, "I am thrilled with the success of the book launch, and I expect this to be the first part of a multi-pronged strategy to generate higher visibility for the brand and new clients for our offices around the country. We are able to use education as a highly effective and credible marketing strategy as it is at the center of what we do. We are passionate about revolutionizing the industry and creating a whole new category of wealth counseling. It is important to all of us at United Capital that we are known as a firm that helps people with their entire financial lives, not just their investments."
United Capital continues to add to their client-centric tools such as Honest Conversations® and The Money Mind™ Analyzer with the release of Joe Duran's book. It speaks to the ways in which their advisers work with their clients and their quest to improve lives and make discussions around money friendly, interactive and transparent.
###
About United Capital Financial Partners
United Capital Financial Partners, Inc., the parent company of United Capital Financial Advisers, LLC (United Capital), and its affiliates, is a fast growing national partnership of exceptional Private Wealth Counseling offices. United Capital offers investors an open architecture investment platform that enables a wide array of investment management solutions and strategies tailored specifically to their needs. United Capital is a strategic acquirer, not a financial acquirer. Today, United Capital and its affiliates provide advice on over $15 billion in client assets at 41offices around the country.