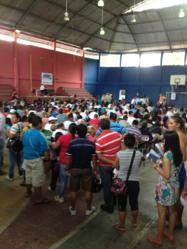 While it's definitely our goal to help other those in countries who badly need medical attention and help, we also focus on our patients at the Rowan Eye Center and the escalating vision problems here in the U.S
Clearwater, FL (PRWEB) February 18, 2013
The residents of Leticia, Colombia, now have over 2,500 pair of donated prescription eyeglasses, thanks to over 75 healthcare professionals who completed a 10-day mission with Medical Ministry International. Dr. Carey Rowan, a board-certified ophthalmologist at Rowan Eye Center, was one of five doctors who traveled to Colombia to treat over 600 patients a day, performing over 300 eye surgeries on underprivileged Colombians.
Dr. Rowan learned the importance of volunteering at an early age. His father, Patrick J. Rowan, M.D., founded the Rowan Eye Center of New Port Richey more than 30 years ago, and made it a priority to help needy people in other countries. He did this by participating in medical mission trips. Dr. Carey Rowan had the opportunity to join his father on these trips as a child. The trips formed his resolve to continue to give to those in need. During his residency, Dr. Carey Rowan went on three separate medical mission trips—two to India, and one to the Honduras.
Dr. Rowan had to put his medical-mission trips on hold when he began building his own medical practice. After training in New York and Maryland, Dr. Rowan took over the Rowan Eye Center in 2001. He built a successful practice around thousands of cataract, refractive, oculoplastic and glaucoma surgeries, in addition to medical treatments he provided for glaucoma, diabetic retinopathy and macular degeneration clinically.
"This was my first medical mission in 12 years," commented Dr. Rowan. "While it's definitely our goal to help other those in countries who badly need medical attention and help, we also focus on our patients at the Rowan Eye Center and the escalating vision problems here in the U.S."
In the United States, statistics show that vision problems are on the rise (1):
●Glaucoma affects more than 2.2 million Americans age 40 and older.
oAnother 2 million don't know they have the disease.
●Cataracts affect nearly 20.5 million Americans age 40 and older.
●More than 3.4 million people age 40 and older are vision-impaired (defined as having 20/40 or worse vision in the better eye, even with eyeglasses).
In 2012, Dr. Rowan opened the Eye Shop in Clearwater, FL, as an extension of the Rowan Eye Center. Dr. Rowan feels strongly about protecting and preserving people's vision, and he also performs eye exams at the Eye Shop location. The Eye Shop utilizes cutting-edge technology to bring patients the best results, including the use of autorefractors. Autorefractors are designed to measure how light enters the eye, which tells the exact prescription needed for clear vision. Dr. Rowan chose to open the Eye Shop, in addition to spending time at his clinic in New Port Richey, in order to bring his services to more areas of Florida.
Carrying on the tradition of the Rowan Eye Center, the Eye Shop of Downtown Clearwater delivers the same great service, but with several unique aspects. Dr. Rowan's wife, Pam, runs the retail store and believes that today's eyewear must not only be functional but also fashionable.
The retail store has trendy name-brand eyewear, including Ray-Ban, Chanel, Gucci, Prada, Versace, Fendi, Dior, and Tom Ford.
The Eye Shop's knowledgeable staff offers eye exams in Tampa Bay to people of all ages. To make such exams even more convenient and affordable, the Eye Shop accepts the following insurance policies: Aetna, EyeMed, Advantica, Davis Vision, First Look, Freedom, BCBS, Vision Benefits of America, OptiCare, Celtic Individual Health, UPMC Vision Advantage, Coventry Health Care of Florida, Spectara, Superior Vision, United Health Care, and VSP Vision.
To learn more about the Eye Shop or to schedule an appointment, visit http://www.eyeshopdowntown.com or call the Eye Shop at 727-755-EYES.
About the Eye Shop
Located in the retail heart of downtown Clearwater, the Eye Shop is designed to fulfill all optical needs. Dr. Carey Rowan of the Rowan Eye Center serves as the surgical consultant for the Eye Shop downtown, while wife Pamela Rowan applies her background in art and business as the shop's fashion and retail director. The boutique's mission is to offer personalized service and a wide variety of high-quality, affordable eyewear and lenses. Customers can obtain eye exams and other services on-site from a team of Board-certified optometrists, or bring in existing prescriptions for eyeglasses, sunglasses, contact lenses and more to be filled. For additional information, visit http://www.eyeshopdowntown.com.
(1)AAO.Org, Accessed February 5, 2013. "Eye Statistics." aao.org/newsroom/press_kit/upload/Eye_Stats_3-5-07.pdf