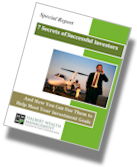 [This report will] show how these 'secrets' can be used to help investors meet their financial goals.
Austin, Texas (PRWEB) February 19, 2013
Gary D. Halbert, author of the weekly Forecasts & Trends E-Letter, has released his new "7 Secrets of Successful Investors" Special Report. In it, he reveals 7 strategies used by many successful investors. Some think these strategies are only available to hedge funds and the super wealthy. Fortunately, these are available to almost anyone.
With all the uncertainty in today's economy and markets, investors are increasingly looking for strategies other than the traditional buy-and-hold approach pushed on their clients by many of the large brokerage firms. They want strategies with the potential to do well in any market environment, rather than strategies that only work when the markets are going straight up.
Halbert noted, "In my more than 35 years in the investment industry, I have met and observed the habits of many successful investors. This Special Report seeks to share what I have learned with those who may not have millions to invest, as well as show how these 'secrets' can be used to help investors meet their financial goals."
In addition to his weekly E-Letter, Mr. Halbert publishes the Between the Lines Blog that seeks to provide timely information regarding the markets, economics and the effect of politics and geopolitics on both. He analyzes the latest economic news, markets and political trends to bring you stories that have an impact on your lifestyle, your future and your pocketbook.
Visitors to http://www.garydhalbert.com can subscribe to Between the Lines and receive e-mail updates when new articles are posted on the blog.
About Gary D. Halbert: Gary has been active in the investment and money management business for over 35 years, starting as a commodities broker specializing in hedging. In the 1980s, Gary's firm launched a publicly-offered multi-manager futures fund, making alternative investments available beyond the ranks of wealthy investors. In 1995, Gary formed Halbert Wealth Management to expand the types of actively-managed investment solutions available to his clients. Its flagship program, AdvisorLink®, offers a select group of money managers that take advantage of these unique active management strategies.
To learn more about Gary D. Halbert, Halbert Wealth Management and his various publications, click on the appropriate link below:
Learn more and subscribe to the Forecasts & Trends E-Letter.
Review and subscribe to the Between the Lines Blog.
Learn more about Gary D. Halbert and Halbert Wealth Management.