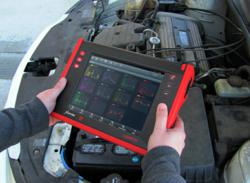 Ontario, California (PRWEB) February 19, 2013
Launch Tech USA is pleased to announce its latest scan tool, the X431 Launch Pad - the absolute fastest scan tool, from diagnostics to repair, right at the vehicle. With its large 9.7" IPS color touch screen and Windows® 7, multiple applications can be utilized simultaneously and at blazing speeds. Performance is further optimized with an automatic vehicle ID and module search feature, greatly reducing the technician's guesswork and diagnostic time.
The Launch Pad also boasts the latest in OBDII wireless technology with a patented communications chip that utilizes LPT (Large Packet Transfer) Technology, offering the fastest and most stable OBD wireless diagnostics experience in the industry.
The Launch Pad's efficiency is further enhanced with a 30-Day Free Trial of Identifix® Direct-Hit®. The Identifix® Direct-Hit® features an integral application that automatically identifies the vehicle through OBD data. Utilizing symptom or DTC information, Identifix® Direct-Hit® displays experienced based confirmed known fixes right on the spot.
"From our unparalleled success of the Launch GDS introduced last year, Launch has demonstrated its superior level of proficiency in bringing to market PC-Windows® based Diagnostics platforms that work", said Harlan Siegel, VP of Diagnostics. "The X-431 Launch Pad is a next level continuation of a value packed innovation from Launch. Technicians can perform wireless-to-the-vehicle diagnostics, view graphs, and record PID data, while obtaining real world repair solutions via Wi-Fi all at the same time" said Mr. Siegel.
The Launch Pad's capabilities are also expandable. Optional modules for a Labscope, Sensor Simulator, Battery Tester and J2534 Passthru Device can be added, making the Launch Pad a must have for today's technician.
As with all Launch Proline scan tools, coverage for Asian, European and Domestic are included, with a free one year subscription. Users can update via the Internet with one click - and update a single car line in less than 45 seconds. With over 650 updates annually, users can be rest-assured that they have the latest and deepest coverage available in an aftermarket scan tool.
About Launch Tech USA:
LAUNCH Tech USA, with parent company LAUNCH Ltd., are global leaders in the automotive diagnostics aftermarket. Launch manufacturers and distributes industry leading Automotive Diagnostics products, Undercar and Lift Equipment in over 60 countries worldwide since 1994.
For additional information, please visit LAUNCH Tech USA at http://www.launchtechusa.com