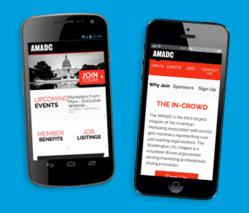 Washington, DC (PRWEB) February 18, 2013
As leaders in innovation, networking and marketing education, AMADC brings together marketers from around greater Washington and beyond, and provides them with resources to help grow their businesses, their skills and their networks. Through sponsored events, exclusive webinars, specialized toolkits, and a host of other opportunities, AMADC is constantly finding new ways to connect with its audience.
As it looks to lead the charge into the mobile space, AMADC worked collaboratively with FiddleFly to create its own mobile membership experience. The new site allows members and other visitors to track upcoming events, take advantage of member benefits, find key job listings, and connect with fellow members and industry leaders through social media. The mobile site also offers aspiring AMADC members an opportunity to join the organization.
AMADC made the decision to entrust the design and development of its mobile website to one of the fastest growing mobile solutions agencies in the country, FiddleFly.
Based in Columbia, Maryland, FiddleFly houses a constantly expanding team of mobile designers and developers that are able to take on projects across a spectrum of businesses. Through a series of collaborative communications, AMADC and FiddleFly were able to create a cutting edge mobile site that engages AMADC's members and users.
According to AMADC president Doug Reed, "Now more than ever, people are on the go. The new mobile web site accomplishes all of our mobile goals and has led to AMADC and FiddleFly now collaborating on a series of educational webinars focused on effective mobile experiences. We feel very fortunate to be partnering with an exceptional organization that will bring great value and cutting edge knowledge to AMADC members."
Visit AMADC's mobile site at m.amadc.org from any smartphone. To explore a mobile partnership with FiddleFly you, email info(at)fiddlefly(dot)com or visit fiddlefly.com/partner.
About AMADC
AMA is a professional association for individuals and organizations involved in the practice, teaching and study of marketing worldwide. AMADC is the fourth largest chapter of the international American Marketing Association (AMA) – itself the largest marketing association in North America with more than 38,000 members worldwide. AMADC is the leading network of marketing professionals driving innovation, professional development and career advancement throughout the region. Members and the broader community of AMADC represent a vast range of industries varying from corporate, media, government, association and non-profit sectors. In 2012, AMADC proudly celebrated its 80th year of providing Marketing Leadership to professionals in the Washington, DC area.
Media Contact: Eileen Bramlet
Email: eileenbramlet(at)yahoo(dot)com
Phone: (571) 228-1906
About FiddleFly
Since its inception in 2010, FiddleFly has been providing mobile web solutions to businesses around the world. From software to design to development to strategy, the FiddleFly team is assembled solely to help the world make the mobile web a better place.
Media Contact: Mike DiMarco, Director of Media
Email: miked(at)fiddlefly(dot)com
Phone: (410) 309-7424