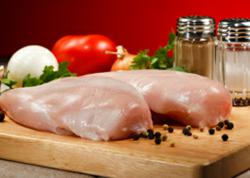 It's not surprising that we're seeing a Salmonella outbreak linked to commercially-produced chicken.
--William Marler
Seattle, WA (PRWEB) February 15, 2013
The Centers for Disease Control and prevention announced late yesterday that between June of 2012 and January of 2013, at least 124 individuals from 12 states had become ill with Salmonella serotype Heidelberg infections. Most of the Salmonella outbreak cases were reported in Washington (56) and Oregon (38). Other states reporting Salmonella outbreak cases were not named by the CDC. Washington and Oregon health officials identified the most likely source of the Salmonella outbreak as chicken produced by Foster Farms plants in California and Washington.
Attorney William Marler commissioned a study of 100 raw chicken samples available at Seattle-area retail locations in 2011. The study, conducted by the Institute for Environmental Health (IEH), revealed Salmonella contamination in 19 percent of raw chicken samples. Other pathogens found on the chicken samples were Staphylococcus aureus (42% of samples), Campylobacter (65%), MRSA (10%).
"It's not surprising that we're seeing a Salmonella outbreak linked to commercially-produced chicken," said Marler.
"What is surprising is that the poultry industry has not figured out a better way to prevent outbreaks among its customers—and that USDA has not stepped up to the plate and declared Salmonella an adulterant in meat. Those actions could make an enormous difference in terms of preventing illness and protecting public health."
Marler Clark, The Food Safety Law Firm, is the nation's leading law firm representing victims of Salmonella outbreaks. The Salmonella lawyers of Marler Clark have represented thousands of victims of Salmonella and other foodborne illness outbreaks and have recovered over $600 million for clients. Marler Clark is the only law firm in the nation with a practice focused exclusively on foodborne illness litigation. Our Salmonella lawyers have litigated Salmonella cases stemming from outbreaks traced to a variety of foods, such as cantaloupe, eggs, tomatoes, ground turkey, salami, sprouts, cereal, peanut butter, and food served in restaurants.
If you or a family member became ill with a Salmonella infection, including Reactive Arthritis or Irritable Bowel Syndrome (IBS), after consuming food and you're interested in pursuing a legal claim, contact the Marler Clark Salmonella attorneys for a free case evaluation.