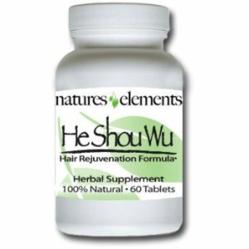 My hair is apparently fuller, healthier and longer after 7 months using it. I do love this product and recommend it to everyone!
Lindenhurst, NY (PRWEB) February 18, 2013
He Shou Wu, of the nutrient rich Wild Eastern Rose plant, has long been used for the medicinal qualities found within the plants root. Shou Wu has been used for centuries in Chinese medicine for its anti-aging and longevity properties. He Shou Wu has the potential to raise the body's Superocide Dismutase (SOD) level which helps protect cells against lipid peroxidation and DNA damage. By raising the SOD level He Shou Wu increases longevity on a cellular level. This in turn reaps numerous benefits on the body, most popular of which is the effect this has on hair.
By nourishing the liver and kidneys, He Shou Wu stimulates blood circulation to the scalp thus providing healthier hair. It provides this by promoting the production of melanin and nourishing hair follicles. A reduction in melanin is the leading cause for lightening and graying of the hair. By He Shou Wu promoting the production of melanin, the hair decreases in grays and instead darkens back to its natural color.
In addition to its hair strengthening properties, studies have shown that He Shou Wu has the ability to lower cholesterol in part to the herbs lecithin content. Shou Wu helps to promote proper red blood cell generation, slow down gland degeneration and increases antioxidant activities in the body, which all works to slow down the aging process.
Finding the right form and potency of Shou Wu is very important. In order to see proper results an extracted form is essential. Extracts can be 10, 20 or even 100 times the concentration of a powder. For example if a 500 mg tablet of Shou Wu powder was compared to a to a 500 mg tablet of Shou Wu 12:1 extract, results would show that it would take twelve 500 mg tablets of the powder to equal one 500 mg tablet of 12:1 extract. Natures Elements provides customers with the purest and most potent form of Shou Wu as a 12:1 Extract. The irony is that powders are often marked up very high, and while extracts cost vitamin companies much more it might not cost the consumer more.
This 12:1 extract ratio is contained in both Natures Elements Original Shou Wu and the Advanced Shou Wu Formula. Some competitors selling Shou Wu often sell less potent products requiring a dosage of up to 3 tablets, 3 times a day or more. That's a total of 9 tablets. Because Natures Elements Shou Wu is so concentrated consumers only need to consume 2 tablets a day.
Natures Elements is a trusted source for natural health, which makes it easy for customers to feel safe and secure when ordering. They also offer the convenience of Auto-Ship, which provides automatic monthly shipping with the advantage of receiving 20% off every bottle and a free gift with sign up. This Auto-Ship discount can also be applied to products that are already on sale.
Natures Elements is committed to delivering high quality vitamin and herbal supplements and providing real results through dedicated research and superior formulas.
Resources:
http://www.naturalnews.com/028709_gray_hair_He_Shou_Wu.html
http://www.helium.com/items/2078064-grow-hair-hair-growth-herbs-grow-hair-hair-loss-lavender-hair-growth-aloe-vera-hair-hu-shou-wu