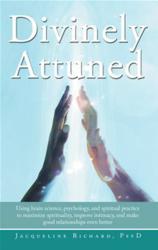 Los Angeles, CA (PRWEB) February 19, 2013
"Science without religion is lame, religion without science is blind" – Albert Einstein.
In Divinely Attuned, psychotherapist and AASECT certified sex therapist Jacqueline Richard intertwines spirituality, science and psychology to guide couples to a new level of intimacy. Using these multiple disciplines, Richard explores how relationships are created and sustained, as well as factors that can block their development. She delivers lessons on increasing lasting intimacy while showing how a growing spiritual awareness can be an important part of this process.
Using her 40+ years in healthcare, Richard wrote this book to expand her practice in marriage and sex therapy by opening her door to couples everywhere and showing them how to intertwine science, psychology, and spirituality to break the mold of boring relationships. Using straightforward messages with minimal technical jargon, Richard enlivens disconnected or dull relationships in a new, exciting way.
"I wanted to write a book that would express the idea that spirituality and science are intertwined, and specifically I wanted to show people that this is true in relationships," said Richard. "Often the 'we' in the relationship is suffering and dying, causing disconnection that results in boredom, but this is reversible, and can be done in an exciting way. The process of reconnecting can involve a deepening spiritual awareness that grows within the couple."
Divinely Attuned: Using brain science, psychology and Spiritual practice to maximize spirituality, improve intimacy and make good relationships even better
By Jacqueline Richard
ISBN: 978-1-4525-5989-9 (sc)
Pages: 140
Price: (SC) $11.99 € $4.99
Available at http://www.balboapress.com, http://www.amazon.com, and http://www.barnesandnoble.com
Website: http://www.JacquelineRichardPsyD.com
About the author
Jacqueline Richard received her Doctor of Clinical Psychology degree from Ryokan College in Los Angeles. She is a psychotherapist in private practice in Santa Barbara, CA, specializing in Relationships and Sexuality. She is an adjunct professor at Ryokan College and is a member of the American Association of Sexuality Educators, Counselors, and Therapists and the California Association of Marriage and Family Therapists.