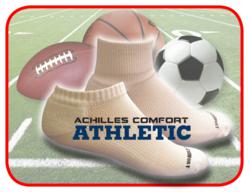 Say Goodbye To Blisters, FOREVER!
National (PRWEB) February 16, 2013
Today, Achilles Comfort Inc. announces the finalization of a patent exclusive to the next generation sock company, issued by The U.S Patent and Trademark office. The patent protects new technologies in sock and hosiery design including a durable 3M Laminated adhesive, an advancement expected to set a new standard within the retail industry. The patent also parallels recent market research that reveals new trends in consumer spending. With innovation at the forefront of the company's objectives, retailers are excited to benefit greatly with the new "Tritec Footwear" product line available soon nationwide.
The new market research—sponsored by Achilles Comfort Inc.—sheds light on the company's projected potential in 2013. The comprehensive research cites statistics from the Sporting Goods Manufactures Association (SGMA), who reported that 76% of Americans took part in at least one athletic sport last year. Moreover, last year athletes spent over $77 billion on equipment—of which socks are now considered part of equipment and not an accessory. Fitness walking is one of the fastest growing sports to see dramatic jumps in participation, increasing over 25% in the last 10 years, representing more than 114 million registered walkers. These poignant statistics found in Achilles Comfort's full report represent the company's objective to combine their newly patented technology with specific consumer trends and needs.
Achilles Comfort Inc. is excited to have earned the patent that protects their new "Tritec Footwear" that addresses several of the consumer trends predicted to effect retailers significantly in 2013. The new product line incorporates a (3) step, patented process that has the most modern technologies aimed to improve current standards in the sock market. The "Tritec Footwear" line includes a cushion on the inside heel of the sock with a cool, breathable jersey to add comfort at the point of contact and a durable 3M Laminated adhesive on the other side for permanent placement, offering maximum protection for the areas where blisters commonly occur. Other features include advanced compression, promoting circulation; carefully crafted pro-grade fabrics designed for maximum moisture management and insulation control with ProDri technologies, often referred to as a 'built-in deodorant', and a seamless toe line for maximum comfort. Additionally, Achilles Comfort has incorporated antimicrobial technology into manufactured high-grade yarn, effectively reducing odor caused by perspiration.
With the patent now finalized, the next generation sock company is expected to change the industry of athletic and casual footwear within retail stores across the country who, more than ever, look to innovation to compete with shocking consumer statistics.
The new socks are available online as Achilles Comfort begins to begin its marketing campaign to reach retailers to deliver mass distribution nationwide. With their patented, next generation sock technology the company plans to saturate the retail market offering a level of comfort to consumers that is long overdue. The goal in 2013 is to help Consumers "Say Goodbye To Blisters, FOREVER!"
About Achilles Comfort – Headquartered in Boca Raton, FL. Achilles Comfort launched in 2012 by utilizing innovative, patented technology to offer a simple solution to a common hindrance faced by almost every American looking for relief. The "Tritec Footwear" line launched in 2013 by combining Antimicrobial technology, built-in cushion protection and advanced compression for greater circulation, as well as seamless toe line for maximum comfort. Many have coined a new phrase dubbing Achilles Comfort "The Only Cushion That Matters." For more information contact Ricky Hasan 518-880-7586 or visit Achilles Comfort online at http://www.achillescomfort.com.