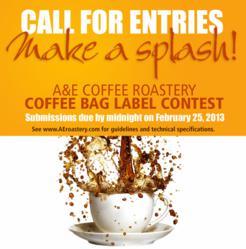 "What better way to celebrate Earth Day than to engage artists and support a nonprofit," Emeran Langmaid, owner, A&E Custom Coffee Roastery.
Amherst, New Hampshire (PRWEB) February 15, 2013
A&E Custom Coffee Roastery in Amherst, NH, is looking for artists, illustrators, and other creative types to submit Earth Day-themed artwork. One talented individual's concept will become the next label for A&E's limited-time Earth Day Blend coffee.
"We have always supported the arts community in Southern New Hampshire and Northern Massachusetts," said Emeran Langmaid, owner of A&E Coffee. "This year, we decided to showcase a piece of that art on our coffee packaging."
A&E Custom Coffee Roastery is looking for an artist to create the label art for its special "Earth Day Blend." For six weeks, from April 1, 2013, until May 15, 2013, A&E will sell this blend - with the winning label - in its café and online.
Each year, a portion of sales of the Earth Day Blend is donated to a charity. This year, the winning artist will choose a non-profit to direct a $2 donation from every bag sold. In addition, A&E will match the donation, meaning, for every bag of Earth Day Blend sold, $4 will be donated to the non-profit of the artist's choosing.
"What better way to celebrate Earth Day than to engage artists and support a nonprofit," Langmaid said. "I am certain we will get some impressive entries, and I'm excited to see them come in."
How to enter
Submit Earth Day-themed artwork to janna(at)savoirfaire-us(dot)com until midnight on Monday, February 25, 2013. Please make sure that your submission follows the guidelines below:
Acceptable file types
Preferred file format for electronic files is PDF. When generating your PDF, please ensure you have selected options/settings for press quality. All fonts must be properly embedded and images of high resolution, having an effective resolution of 300 dpi or greater.
We can also accept native or source files created in InDesign CS5, QuarkXPress 6.1, Illustrator CS5 and Photoshop CS5 (PSD or TIF). Please include all font files (or convert fonts to outlines) and supporting graphics used in your label when sending native files.
Artwork should be CMYK. You may also include PMS colors in your graphics, although PMS colors will be run as 4-color process.
Trim size is 3" wide by 4" high. Please include 0.125" of bleed in your artwork
Unacceptable file types
We cannot accept: Microsoft Word, Microsoft Publisher, Microsoft PowerPoint or CorelDraw files. Images copied from the web are also not acceptable, as their print reproduction is poor.
Technical specifications for entries are also available online.
The Contest
From March 1, 2013, until March 15, 2013, Facebook friends of A&E Coffee can vote for their favorite label art. The winner's art will be featured as the label for the Earth Day blend, which A&E Coffee will sell in its Amherst store (135 Route 101A), and online at http://www.aeroastery.com.
About A&E Custom Coffee Roastery
Established late in 2001, A&E Custom Coffee Roastery provides each customer with personalized service and the freshest coffee and tea possible in a business that promotes environmental stewardship and economic fairness to growers. The company offers a variety of certified-organic, shade-grown, Fair Trade coffees from around the world. Owner Emeran Langmaid and Roastmaster Adam Langmaid custom roast each batch in the Amherst café, guaranteeing the freshest, most flavorful coffee possible. Visit http://www.aeroastery.com to learn more about A&E Custom Coffee Roastery.