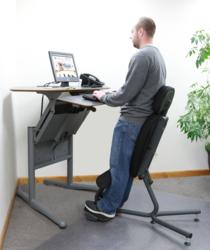 The Stance Move Angle Chair will give the computer user the ability to achieve several healthy and energetic working positions while using a height-adjustable desk
Burnsville Minnesota (PRWEB) February 18, 2013
Computer users now have the perfect companion for their height adjustable desks. The new Stance Move Angle chair from HealthPostures is a three-in-one chair that will give the computer user a variety of comfortable position while using a height-adjustable desk. The Stance Move gives the computer user the option of sitting, kneeling, supportive standing or any other comfortable position while staying on task.
Everyday we hear about how inactive Americans are becoming as technology becomes a more entrenched part of daily life. Obesity, heart disease, neck and back pain are all at an all time high in the United States and the cause can be traced back to the amount of time that people sit while at work while working with their computer. For many years people have worked at the traditional static desk with very limited opportunities to move throughout the work day. Today's work force is spending more time working at a desk with a computer and there is now more awareness of the long term effects of sitting.
Many companies are now adding height-adjustable desks to the work place to promote the idea of moving between sitting and standing throughout the day. The human body is designed to move and is incredibly efficient and adaptable. Employees and employers have since learned that switching from sitting to standing though-out the day has many benefits including physical alertness, increased productivity and staying fit while on the job.
While standing is the preferred method of working in the office environment because of the health and energy benefits it provides, standing for 8 or more hours out of the day is not recommended either. The Stance Move Angle Chair will give the computer user the ability to achieve several healthy and energetic working positions while using a height-adjustable desk. Forward tilted sitting, kneeling and supportive standing are all healthy postures that provide the worker with unparalleled well-being and energy in the workplace. The Stance Move Angle chair is the only ergonomic, sit to stand, three position chair on the market.
HealthPostures' has been designing sit to stand ergonomic products that encourage an energetic work environment since 1999 and will continue to provide a sit to stand ergonomic solution that will help prevent and alleviate pain associated with sitting at work.
Visit http://www.healthpostures.com for more information about the three-in-one position Stance Move Angle chair and more sit-stand solutions.