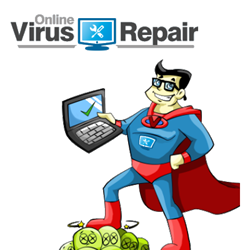 It's important to have computers checked for viruses and spyware at least every 6 months. We offer a professional checkup by a trained technician at no charge.
San Luis Obispo, CA (PRWEB) February 15, 2013
In today's warning, OnlineVirusRepair.com said that "unfortunately, new computer viruses slip right by the standard, or even the premium virus protection software that most people use to keep their computers healthy." But, there is help. No matter what new virus takes over a computer and attacks its usability, OnlineVirusRepair.com says they can cleanup viruses online, without the hassle.
"The new types of viruses look for and install via vulnerabilities in common software that millions of computers have, and we've seen it slip past literally every brand anti-virus program available," Dan Steiner, President of OnlineVirusRepair.com says. "The new forms of viruses are creating a serious problem because they block access to the computer, even in Advanced Bootup Options like Safe Mode. This makes threat removal exceedingly more difficult."
Current anti-virus programs do not try to detect vulnerabilities in software. They are effective only if the software can run. If a computer has one of the vulnerabilities, the virus will literally sneak right in under the radar, and will immediately block the computer user from being able to run anything.
Some examples are the Ransomware viruses which are easily one of the most common viruses floating around the Internet. These types of infections pretend to be a government program, such as the Federal Bureau of Investigation, Department of Defense, or the United States Cyber Security. These viruses block access to the computer entirely with a warning that claims that the user has broken a number of laws, and must pay a fine via MoneyPak. Some people even fall for the scam and end up sending money to the criminals who wrote the virus. The new MoneyPak virus has become extremely common.
While anti-virus is absolutely necessary, and blocks a great deal of attacks, it's equally important to ensure plugins and software is up to date. Mr. Steiner continues to say, "We're anticipating that anti-virus companies will create more advanced methods that are able to run if a computer becomes completely inaccessible. Some programs are already available to the public, but aren't widely known. We'd like to see the big anti-virus companies step up to the plate."
OnlineVirusRepair.com takes a different approach to removing viruses. Instead of lugging the computer down to a local shop, which takes several days, and can cost a ridiculous amount of money: users can now get better service completely online. Infected users from around the United States can call in, immediately get an American based technician, and watch as their computer is cleaned remotely. OnlineVirusRepair.com charges a flat rate of $89 for the virus removal service, and won't bill at all until the service is complete. This offers a great deal of comfort to users who are looking for guaranteed resolution, without the risk.