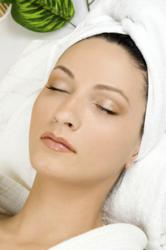 Avoid Winter Skin Worries With Professional Advice From Your Esthetician
Williamsville, NY (PRWEB) February 15, 2013
Dry, dehydrated skin can be a temporary condition or a lifelong concern. Dry skin can be genetically determined or a product of an increasingly stressful lifestyle coupled with continual exposure to damaging environmental elements. It can also be caused by the lack of products used on the skin. It is extremely important to seek the assistance of skin care professionals trained in properly diagnosing dry, dehydrated skin for the most effective treatment and product regimen.
Before addressing the causes, it's important to know the difference between dry and dehydrated skin: dry skin generally refers to skin that is lacking in oil and dehydrated skin is characterized by lack of moisture. "Even oily skin can experience dehydration," states Kathy Morell, one of the professionally licensed estheticians at Face Fitness Skin Care. "As mentioned, dehydration is a lack of water, not oil. This means oil gland activity can still be normal or even overactive in dehydrated skin."
Both dry and dehydrated skin can experience a variety of any or all of the following symptoms:

Irritation, inflammation, itchiness and sensitivity
A feeling of tightness or tautness
A look or feel of roughness
Slight to severe flaking and scaling
Fine lines, severe redness and cracks that can sometimes bleed
Weather and environmental elements such as cold winter wind, forced hot-air heating, and low temperatures outside can dry out skin and impair the skin's ability to retain moisture. High daily consumption of caffeinated beverages such as coffee, teas, and colas, can increase dehydration and also contribute to skin sensitivity.
Addressing dry or dehydrated skin quickly can help stave off issues of sensitization. However, don't immediately gravitate towards super-emollient cleansers and creams, as emollient products could aggravate dehydrated skin that's also classified as oily. A thorough skin analysis is the key in the successful treatment of this challenging skin condition.
The estheticians at Face Fitness Skin Care are trained in Advanced Skin Analysis from The International Pastiche Learning Pathways. "Our analysis looks beyond the skin's surface, at the cells and systems of healthy skin to determine the cause of skin challenges and not just identifying symptoms."
With the correct skin analysis, Face Fitness Skin Care can design a treatment protocol and home care regimen to resolve any skin issues and ensure optimum healthy, beautiful skin for many years to come. Call today to schedule a consultation at: 631-0964 or go online to make an appointment at: http://facefitnessltd.com/reservations.
About the company:
With more than 25 years experience, the Face Fitness Skin Care professionals have cocktailed the finest ingredients from all of our skin care lines to create the best signature treatments available with visible results. Their goal is to educate their customers about their specific needs and customize a treatment plan to achieve healthy, beautiful skin. Face Fitness Skin Care's estheticians will recommend a facial best suited to their customer's unique needs at the time of their appointment. For more information visit their website at http://facefitnessltd.com/ or visit them on Facebook at http://www.facebook.com/facefitness.