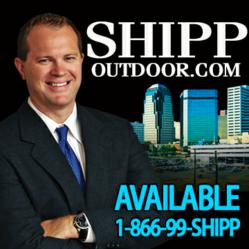 If an acorn can grow into an Oak, Shipp Outdoor can grow into a national outdoor media company.
Shreveport, La (PRWEB) February 15, 2013
Shipp Outdoor, LLC today purchased billboard assets of Bing Outdoor Media giving it a foothold in the Shreveport-Bossier City, LA market. The six-month old startup intends to grow its inventory at a rapid pace according to Chad Shipp, President. "We've seen the demand for this very affordable medium and we intend to meet as much of that demand as we can. In our first few months, we've taken our inventory from 63% vacant after our initial investment in Whatley Sign Co. of Texarkana, AR to only 7% vacant today essentially doubling the value of the company."
In Shipp's eyes, it's all about sales and customer service. "Where many outdoor companies put up a sign with a phone number and wait on phone calls, we put a feet to the ground and knuckles on doors," he adds. The addition of Bing's boards will include the company's first digital billboard located on Pines Road in Shreveport, LA in front of Wal-Mart Supercenter. Other boards are located on N. Market Street heading into downtown, Mansfield Road, and E. Texas St. in Bossier City.
Shipp believes stepping into a market is the first step in taking over a market. "Shreveport-Bossier is a top market in Louisiana and we are bullish about its future prospects as a city and place to do business. Our other businesses and real estate in Shreveport have flourished and this one will as well," says Shipp.
The company has big plans for outdoor in this region feels it can achieve its goal of 1000 faces by 2015 with plans to include a significant number of strategically located digital boards. Shipp says advertisers are hungry for a medium that does not suffer from the fragmentation of other traditional media. "Most everyone gets in a car and that means most everyone sees our advertising. They cannot turn our page, flip our channel, or click on to the next link. There is a reason why traditional media advertise on billboards – they know people see it and it is extremely affordable on a CPM basis. Billboards ad are seen 24/7 and do not get thrown in the trash," Shipp says.
The company has offers in on other companies and plans to buy up any plant it feels makes good business sense and is also working on permits for new structures. Shipp says he doesn't believe in staying small. "Zechariah 4:10 is a verse I've always appreciated as a "small" business person, 'Do not despise small beginnings, for the Lord rejoices to see the work begin...' If an acorn can turn into an Oak, Shipp Outdoor can turn into a national outdoor media company."