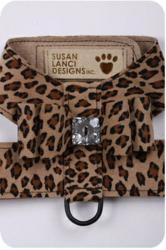 These new items are high quality and will make the chic doggy look fabulous.
Houston, TX (PRWEB) February 17, 2013
Doggy In Wonderland has recently added several new product lines to their expanding online pet boutique. They recently added Susan Lanci dog harnesses. These harnesses are the ultimate in chic. The soft ultrasuede material provides dogs with a comfortable fit, while also being breathable and machine washable. Swarovski crystals top off the look in various designs.
Another hot new item at Doggy In Wonderland are some beautiful dog necklaces. These necklaces are perfect for adding bling to your dog. These necklaces come in a variety of looks from crystals to pearls with silver and black accents. Charms in the shapes of bows and hearts add to the look.
Also, new to Doggy In Wonderland are Fabuleash's Fab Collection leashes and Crystallized Bone Shaped Bag Dispensers. These leashes boast a dainty jeweled look with the strength of a pull force tested to 160 pounds. These leashes come in a variety of colors and are 48 inches in length. The bag dispensers accessorize the leash.
"We are excited about our newest product additions," one managing member expressed. "These new items are high quality and will make the chic doggy look fabulous. We have several Susan Lanci harnesses in stock that are available for immediate shipping, but we will also work with our customers to find the perfect one for them if what we have isn't their first choice. Our dogs look fabulous in them, and this new Dibalulu jewelry and Fabuleashes are beautiful."
About Doggy In Wonderland
DoggyinWonderland.com is a leading online pet boutique offering a wide array of pet accessories and other products for dogs and cats. This includes a full line-up of chic dog products such as stylish dog clothing, collars and leashes, pet furniture and dog beds, eco-friendly pet gear, healthy dog treats, dog toys, pet carriers, and a growing collection of cat products as well. The goal is not only happy and healthy pets, but also 100% customer satisfaction. Call 866.280.1818 for more information, and see the full product range at DoggyinWonderland.com.