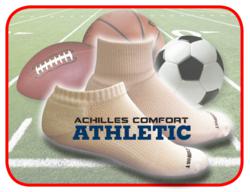 National (PRWEB) February 28, 2013
Everyone has experienced a foot blister at least once in their lifetime. The uncomfortable raised skin is a reaction to repeated rubbing, friction and pressure. From athletics to formal dress-shoes, there is virtually no escaping this problem for millions of Americans and people throughout the world. CEO and Founder of Achilles Comfort shares a familiar story but meets the problem head-on by announcing today a universal solution once and for all.
Ricky Hasan, CEO and founder of Achilles Comfort Inc. was at a wedding when he noticed that all of the men and women at the table had removed their uncomfortable footwear that were causing painful blisters. It was then that he decided to solve this problem once and for all. Today, he is proud to release the latest in sock technology, "TriTec Footwear"—a product line that combines advancements in compression, moisture management, and durable adhesives to effectively combat a problem that affects millions of Americans and people throughout the world.
Having just recently finalized the company's patent with the U.S. Patent and Trademark Office, the new product line incorporates a (3) step innovative technology aimed to improve current standards in the sock and hosiery market. The "TriTec" line includes a cushion on the inside heel of the sock with a cool, breathable jersey to add comfort at the point of contact and a durable adhesive to the other side for permanent placement, offering maximum protection for the areas where blisters commonly occur. Other features include advanced compression, promoting circulation; carefully crafted pro-grade fabrics designed for maximum moisture management and insulation control with ProDri technologies, often referred to as a 'built-in deodorant.' Additionally, Achilles Comfort has incorporated antimicrobial technology into manufactured high-grade yarn, effectively reducing odor caused by perspiration.
The new "TriTec Footwear" product line saving people's feet from painful blisters is also responding to recent trends in consumer expectations, thanks to research sponsored by Achilles Comfort Inc. The research identifies several consumer expectations that will likely effect retailers across the country in 2013. The report cites ageing Baby Boomer statistics and related health problems as a potential market for their new product line. According to the report, American's spend $50 billion a year to eliminate back pain—a problem 80% of the population will suffer from at some point in their life. Studies also show a direct correlation between knee and back problems due to improper footwear. Improvements in footwear are the first step towards a healthier and happier population.
Achilles Comfort has combined this market research with innovative technology to appeal to retailers who like consumers, have become more conscience of their spending during difficult economic times.
The new athletic socks are available online while Achilles Comfort begins negotiations with big box retailers to deliver mass distribution nationwide. The next generation sock technology company plans to saturate the market and retailers throughout the country in 2013.
About Achilles Comfort – Headquartered in Boca Raton, FL. Achilles Comfort launched in 2012 by utilizing innovative technology to solve a common foot injury faced by almost every American. The Tritec Footwear line will be released in 2013 by combining Antimicrobial technology, built-in cushion protection and advanced compression for greater circulation. For more information contact Ricky Hasan 518-880-7586 or visit Achilles Comfort online at http://www.achillescomfort.com.