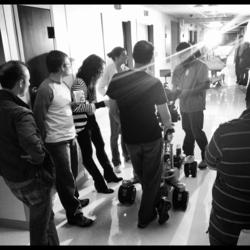 LA QUINTA, CA (PRWEB) February 15, 2013
Point7West, a full-service video solutions company that produces award-winning strategic videos for clients nationwide and internationally, has produced it's fifth broadcast video campaign for the nationally renowned Wheeling Hospital. The broadcast video campaign showcases the historic 163-year old hospital's newly expanded Tower 5 facilities, including its world-distinguished staff, surgical, cardiac care and cancer care centers.
Comprised of five television commercials, the campaign utilizes gorgeous 4K footage captured with the revolutionary RED Scarlet camera, and is wrapped in engaging voiceover and motion graphics. The objective: connect with the viewer in a personal, positive, powerful way. Four 30-second spots, anchored by one 60-second spot will air across several states with the messaging reaching a potential 26-million people.
Serving communities in the Northern Panhandle of West Virginia, Eastern Ohio and parts of Pennsylvania, Wheeling Hospital continues to grow its facilities and capabilities with the needs of the people it cares for. It's newest expansion is a state-of-the-art seven-story hub of technology and compassion that features a 23,000 square-foot Trauma/Emergency Center, private patient rooms, as well as intensive care units. In total, the historic hospital has 276 beds, and an equivalently balanced 275-member medical staff team comprised of top primary care and specialty physicians.
Wheeling Hospital and their agency, Pikewood Creative, chose to work with Point7West for the company's great adeptness at shooting stunning video in busy, high-stress environments. Diversely experienced in creating effective video solutions and compelling results-driven messaging and branding for health and medical care industries, Point7West has produced well-received videos for innovative leaders in the field such as Children's Hospital Los Angeles, UC Irvine Medical Center, and the National Institute of Health.
ABOUT POINT7WEST
For more than a decade, Point7West has specialized in providing strategic video solutions for over 250 companies nationally and abroad, producing award-winning, creative videos for businesses and other organizations in a wide range of industries. A Point7West video can help strategically launch new products, refresh a brand, increase sales, raise money, recruit employees, and raise awareness.
# # #