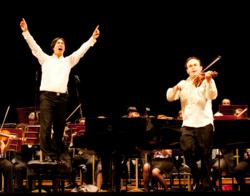 "The funniest show on music and the life of musicians I have seen since the great Victor Borge. It isn't just entertaining, it is hilarious!"— Gidon Kremer, violinist
Newport, KY (PRWEB) February 17, 2013
The Kentucky Symphony Orchestra has supplemented the exemplary Greater Cincinnati / Northern Kentucky performing arts menu with programming specials that are unique to the region for 21 seasons. On April 6th, the internet sensations Igudesman and Joo make their regional debut, and only second appearance with orchestra in the U.S. (the first was with the LA Phil at the Hollywood Bowl). "A Big Nightmare Music" (an up-sized and newer version of their side-splitting duo act —"A Little Nightmare Music") employs the orchestra and individual musicians in sketches that combine and spoof classical music and pop-culture.
Violinist Aleksey Igudesman and pianist Hyung-ki Joo are both serious musicians, but together, have taken the world by storm and cracked up Europe's most esteemed concert halls with their antics. Their YouTube videos have received nearly 30 million views. Many of clas­si­cal music's biggest names, such as Emanuel Ax, Joshua Bell, Janine Jansen, Gidon Kre­mer, Vik­to­ria Mullova, and Julian Rach­lin, have joined them in their musi­cal sketches. Alek­sey and Hyung-ki have also teamed up with actors John Malkovich, and for­mer James Bond, Sir Roger Moore, on sev­eral occa­sions in aid of UNICEF. Last year's tri­umphant U.S. rectial debuts, at Carnegie Hall and the Kennedy Cen­ter had audi­ences and seri­ous crit­ics alike not just rav­ing but rolling in the aisles. (See I&J performing "I Will Survive": http://www.youtube.com/watch?v=pI-PloJWbSk)
"For the put-upon Igudesman, think Jack Benny and Jascha Heifetz rolled into one. For the zany Joo, try an unholy Chico Marx, Vladimir Horowitz, and Jerry Lewis mash-up."— The New York Times
Alek­sey and Hyung-ki met at the age of twelve at the Yehudi Menuhin School in Eng­land, and since then, have remained strong friends and writ­ing part­ners. In 2004, fol­low­ing in the foot­steps of Vic­tor Borge and Dud­ley Moore, they cre­ated their first ground­break­ing show, "A Lit­tle Night­mare Music." Since then, they have per­formed as a duo, and as soloists, with cham­ber and sym­phony orches­tras at many of the world's biggest stages and fes­ti­vals. "These guys are admitted fans of 1940-50s parodist Spike Jones, but they probably don't know that the KSO created many authentic performance editions of Spike's works over the past ten years. We are quite comfortable with comedy and craziness on-stage, said KSO music director James Cassidy.
Indi­vid­u­ally, Alek­sey Igudes­man has worked with musi­cians rang­ing from Acad­emy Award-winning Hol­ly­wood com­poser, Hans Zim­mer, to multi Grammy Award-winning vocal­ist, Bobby McFer­rin. Hyung-ki Joo, has worked with Acad­emy Award-winning com­poser, Van­ge­lis, and was cho­sen by Rock and Roll Hall of Fame inductee, Billy Joel, to arrange and record Joel's clas­si­cal com­po­si­tions on a CD, which reached number one on the Bill­board Charts.
A Big Nightmare Music is a delightful show, full of virtuosity, enchanting music, and zany, outrageous humor. Ideal for audiences of all ages, it is sure to captivate and crack them up whether they're classical music enthusiasts or casual listeners. The program includes music by Mozart, Rachmaninoff, Bach, Vivaldi, Strauss, Beethoven, Igudesman, Joo and more.
Equally com­fort­able per­form­ing in clas­si­cal con­cert halls, as well as in sta­di­ums in front of crowds of 18,000, Igudesman and Joo's col­lec­tive dream is to make clas­si­cal music acces­si­ble to a wider and younger audience. "Aleskey's and Hyung-ki's dream has been the KSO's raison d'etre since the orchestra's inception in 1992," James Cassidy was quick to point out. "When I stumbled upon these guys on-line a couple years ago, I knew immediately that we were destined to collaborate. The KSO is proud to bring this multi-talented, international act to Northern Kentucky and Greater Cincinnati for the very first time."
Don't miss this show. One Night Only! Join the KSO with Igudesman and Joo for a most memorable evening of stellar musicianship and wacky comedy Saturday, April 6 at 8:00 p.m. at the Florence Baptist Church at Mt. Zion. Tickets for this special engagement are $24, $32, $40 (children 6-18 are 50% off). For more info and tickets call the KSO at (859) 431-6216 or visit http://www.kyso.org