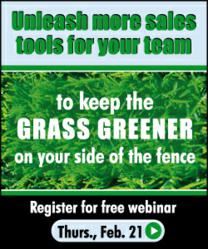 This webinar tackles obstacles to longevity, elements that when lacking at the branch level may cause LOs to look for greener grass elsewhere.
White Plains, NY (PRWEB) February 18, 2013
The mortgage industry webinar will present concrete marketing and management strategies and best practices that mortgage branch managers or broker/owners can implement to grow their business and ensure loan officer longevity. Interested parties can link here to register for the free event.
"Guaranteed is proud to continue its monthly webinar series for mortgage professionals," said David Wind, President and CEO of Guaranteed. "LO compensation, regulatory and market changes have made it challenging to retain great loan originators. This month we're tackling obstacles to longevity, elements that when lacking at the branch level may cause LOs to look for greener grass elsewhere, such as available marketing tools and guidance, help with strategic partnerships, a motivational atmosphere in the office and more." Wind will moderate the discussion.
David Wind received a bachelor's in Accounting from Boston University School of Business Management, a Juris Doctorate at New York Law School and a Master of Science in Real Estate Development & Investment from NYU. He clerked at the New York State Attorney General's Real Estate Finance Bureau and was also an analyst at Citicorp, responsible for investment analysis of mortgage-backed investment securities and offerings. He formed Guaranteed Home Mortgage in 1992, where it has grown to 23 states.
Speakers include Jamey Citrone, Regional Director for Guaranteed, offering comprehensive hands-on experience and pragmatic advice to branch managers. He was named top loan originator out of 1,600 at a previous firm and, with staff retention levels exceeding a decade, he knows how to create an atmosphere conducive to both loyalty and productivity.
Renae Valdez-Simeon, former social media and web consultant and the newest addition to the Guaranteed marketing team, will speak on social media and other online strategies. Her background includes marketing and real estate, as well as product management experience in the software industry.
Also speaking will be Guaranteed's Marketing Director Jean LeBlanc, who leads a team that provides in-house advertising agency results for Guaranteed's branches coast-to-coast. Her 30-year career has spanned several industries, helping her to wear multiple marketing and advertising hats at once.
Guaranteed's industry blog, Smart Mortgage Branching, offers tips for mortgage professionals. For more information, please contact Kelley Berkheiser at 914-339-6016, visit http://www.joinghmc.com or write Guaranteed Home Mortgage Company, Inc., 108 Corporate Park Drive, Suite 301, White Plains, NY 10604.
About Guaranteed Home Mortgage Company
Founded in 1992, Guaranteed Home Mortgage Company (Guaranteed), a licensed mortgage investment and banking firm, is comprised of more than 300 mortgage professionals lending in 23 states. The company, previously named in the Inc. 500 list of the fastest growing companies in the United States, provides residential mortgage financing to a wide variety of consumers and real estate professionals.