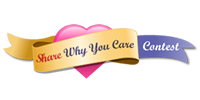 The dedicated people who make up the caregiving community have some heartfelt stories to share
Foster City, Calif. (PRWEB) February 19, 2013
ElderCarelink.com, a one-stop elder care resource, recently announced winners of "Share Why You Care," an essay contest that asked caregivers to share their stories, struggles and favorite memories about caring for loved ones. Users voted on their favorite entries and ElderCarelink.com awarded a total of seven prizes during the contest period.
"We were thrilled to receive so many inspirational stories," explained Vicki DeLuca, spokesperson for ElderCarelink.com. "The dedicated people who make up the caregiving community have some heartfelt stories to share."
The fan favorite and grand prize winning entry belonged to Judy Byrd, who shared her heartwarming story titled "Shower of Blessing." In her submission, Byrd chronicled the emotional journey of caregiving for her ailing mother-in-law, who was diagnosed with Alzheimer's disease.
"Being a caregiver is extremely difficult at times," expressed Byrd. "Thank you so much for the chance to share. I truly hope my story will help someone else."
As the grand-prize winner, Byrd has been awarded $250 towards a spa-day to relax and unwind $150 for in-home care for her loved one while she's away, as well as a $50 Visa gift card for being a random weekly winner. Additional winners included first runner-up Jenn Chan and second runner-up Linda Thompson, and honorable mentions from Mary Clarke, Tammy Knight and Angie Williams.
"We are so glad we were able to give caregivers this opportunity," continued DeLuca. "It's a truly rewarding experience for all parties."
To see all the entries please visit the contest homepage and follow ElderCarelink.com on Twitter and Facebook.
About ElderCarelink.com
ElderCarelink.com, a one-stop elder care resource, provides a community of support, advice, and caregiving resources for families in need of elder care. To date, ElderCarelink has provided information and assistance to more than one million families nationwide with finding in-home care, assisted living, nursing homes, adult day care, private duty nursing, and care management services. ElderCarelink.com is owned and operated by QuinStreet, Inc. (NASDAQ: QNST), one of the largest Internet marketing and media companies in the world. QuinStreet is committed to providing consumers and businesses with the information they need to research, find and select the products, services and brands that meet their needs. The company is a leader in visitor-friendly marketing practices. For more information, please visit QuinStreet.com.