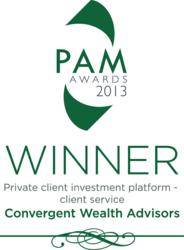 This award highlights Convergent's commitment to creating tailored solutions designed for wealth protection, growth, and managing downside risk.
New York, NY (PRWEB) February 19, 2013
Convergent Wealth Advisors was acknowledged for excellence of client service for its investment platform by Private Asset Management at the recent New York City wealth management media forum. As a recipient of this 2013 PAM award, Convergent continues to build the firm's visibility and nationwide presence. In attendance were Convergent's president and COO, Douglas Wolford, and Ken Handy, director of Convergent's New York City office.
"Wealth can be complicated. We strive to make the client experience understandable and manageable," stated Mr. Wolford. "This award highlights Convergent's commitment to creating tailored solutions designed for wealth protection, growth, and managing downside risk. We continue to push to deliver distinguished investment and service capabilities to meet the investment and lifestyle goals of wealthy individuals and families."
Mr. Handy views the award as a unique honor and sees it as confirmation that Convergent's New York City office is a solid competitor and strong option for the wealthy investor who is seeking a more personal, exclusive wealth management experience.
Since its founding in 1994, Convergent Wealth Advisors has pioneered open architecture investing, building a strong in-house research capability, embracing contrarian perspectives and alternative investments, and providing consolidated performance reporting. While technical innovations and dynamic strategies evolve as the investment landscape changes, objective advice and exceptional client service remain constant.
About Convergent Wealth Advisors
Convergent Wealth Advisors is a recognized industry leader in wealth management, advising on over $10 billion in assets (as of December 31, 2012). Convergent provides investment consulting services and customized wealth management solutions to ultra-high net worth individuals and family offices with investable assets of $10M and more. Independence by Convergent™ is a division of Convergent focused on servicing clients with $500,000 and more in investable assets.
Convergent has offices in Washington, DC, Los Angeles, New York, and Portland, OR.
The Private Asset Management award ranking is based on financial progress: candidates must be able to demonstrate a performance track-record over the course of the last twelve months, growth: client numbers, internal hires and geographic expansion, client satisfaction: provide evidence of client satisfaction, including anecdotes and direct client statements, product innovation: details of new services and products launched over the course of 2012. Convergent's accolade was based upon the information provided on Growth and Product Innovation. Non-deposit investment products are not FDIC insured, are not deposits or other obligations of Convergent Wealth Advisors, are not guaranteed by Convergent Wealth Advisors and involve investment risks, including the possible loss of principal.
Convergent is a majority-owned subsidiary of Convergent Capital Management, which is a subsidiary of City National Corporation (NYSE:CYN), the parent company of City National Bank.