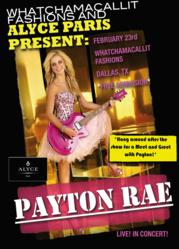 Whatchamacallit, the largest prom store in Texas! If you cant find your dress here it hasnt been made!
Dallas, TX (PRWEB) February 15, 2013
Formalwear and evening gown boutique, Whatchamacallit is hosting a trunk show featuring designer Alyce Paris and a concert by up-and-coming country star Payton Rae. On Saturday February 23, from 12:30 p.m. to 3 p.m., the hottest Alyce Paris designs will be available to try on and purchase. After the concert, Payton will also stay for a meet and greet.
Alyce Paris dresses have made their mark as fresh and innovative styles for evening wear. Their dresses have been worn by celebrities, including Payton Rae, and continue to be a popular choice for homecoming dresses, prom dresses, and pageant dresses.
Payton Rae is a teen country music star on the rise with her debut five-song album Dare to Live. She wore a pink, tulle Alyce Paris gown with a sweetheart bodice, and adorned with rhinestones at the American Country Music Awards, and was considered one of the best dressed by Entertainment and She Knows TV.
The trunk show and concert is being held at the 14999 Preston Road location of Whatchamacallit in Dallas. To take a look at some of the Alyce Paris styles and dresses, please visit their website at: http://www.alyceparis.com/.
For more information on Payton Rae, please visit the following websites:
Payton Rae website

Official "Not Your Cinderella" Music Video:

About the company:
Whatchamacallit Fashions has over 35,000 dresses in stock for any occasion. Need that perfect outfit for Homecoming or a special occasion? Whatchamacallit has all the dresses and the accessories to compliment evening gowns, social occasion dresses, and prom dresses. At Whatchamacallit customers are treated with world class service as they find that perfect look for the perfect moment. There are two Whatchamacallit locations, one in Dallas and another in Fort Worth.