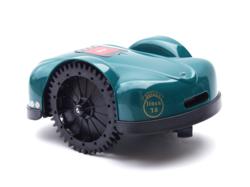 "I can't believe how well they work! My customers will love not having to cut their grass again!

(PRWEB) February 15, 2013
Kyodo America Industries Co., LTD, makers of the LawnBott line of robotic mowers, is proud to announce its newest LawnBott dealer. LawnBott of Delaware Valley is now a fully authorized LawnBott robotic mower dealer serving the Doylestown and north and western Philadelphia, PA areas.
LawnBott is a line of robotic mowers that can maintain yards from 5,000 sq. ft. to well over an acre. Using lithium-ion batteries, LawnBott's are a non-polluting alternative to typical gas powered mower. Many models are fully automatic and feature self-recharging, so that a homeowner can enjoy a well-trimmed yard, without the hard work typically associated with yard maintenance.
LawnBott of Delaware Valley will exhibit the LawnBott live at the upcoming Philadelphia Suburban Home & Garden show February 21-24, 2013 at the Greater Philadelphia EXPO Center, booth #829 & 830. For show and ticket information, visit http://www.phillyexpos.com/ .
Tony Trasatti, owner of LawnBott of Delaware Valley, recently attended a dealer training course held at Kyodo America in Atlanta, GA. After receiving his certification, Mr. Trasatti and his staff are able to professionally install LawnBott robotic mowers in customers' yards and support them so that they have the best automatic mowing and customer service experience. During a demonstration of the various models, Tony commented, "I can't believe how well they work! My customers will love not having to cut their grass again!"
Kyodo America Industries, Co., LTD, is an Atlanta, GA based manufacturer of lawn & garden products and the LawnBott robotic mowers. LawnBott's were originally developed in Italy and are making their way across the US and Canada. Since 2000, our robotic mowers have been helping homeowners maintain their yards without the sweat and aggravation of conventional mowers. To find out more information and the dealer who services your zip code, please visit our website at http://www.LawnBott.com.