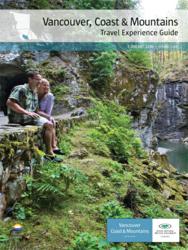 Vancouver, Coast & Mountains really is a place where all things are possible.
Vancouver, British Columbia (PRWEB) February 16, 2013
Vancouver, Coast & Mountains kicks off 2013 with the launch of an inventive Vancouver travel guide for visitors to the Vancouver, Coast & Mountains region of British Columbia. The eco-friendly Virtual Vancouver Travel Guide enables visitors to customize, personalize and create a travel handbook designed specifically for their upcoming Vancouver vacations.
Feature articles on activities such as Sightseeing, Shopping, Arts & Culture, and Golf are written as stories to highlight the unique experiences and community articles focus on the distinct attributes that set them apart from each other and provide visitors with the inside scoop on what's "not to be missed" in each community.
Flipping through the guide's digital pages, the Virtual Travel Experience Guide allows "readers", whether they are on a desktop computer or tablet, to click on links directly related to the places they would like to visit on their Vancouver vacation. Readers are able to bookmark pages, add notes, view video and send the guide or portions of the guide to friends and family, thereby personalizing their very own Vancouver travel guide. And, new for 2013, Facebook users no longer need to leave Facebook to view the virtual Vancouver guide as it has been embedded into Vancouver, Coast & Mountains' fan page.
"Vancouver, Coast and Mountains really is a place where all things are possible," says Kevan Ridgway, President & CEO. "The Virtual Travel Guide enables visitors to better visualize their vacation and provide time saving planning tools to help maximize their experience while in the Vancouver, Coast & Mountains region", adds Ridgway.
With information covering all aspects of the Vancouver, Coast & Mountains region and a sophisticated design by an award-winning design firm, the 2013 Travel Experience Guide is a trusted resource for visitors and industry professionals alike. In-depth articles, fresh, stunning photography and eye-catching design make this publication a keepsake and "shareworthy" for visitors before and during their travels.
The guides are created with the technology of Zmags, a self-service digital publishing software that transforms publications into interactive presentations that engage readers. The accessible format, and interactive page turner, is perfect for tour operators and travel agents to forward to clients, in addition to travel journalists and visitors who may be writing about or simply planning to enjoy a vacation to Vancouver BC.
About Vancouver Coast & Mountains: Vancouver Coast & Mountains, one of six tourism regions of Super, Natural British Columbia, includes four destination areas: Metro Vancouver, Sea to Sky Country, Mighty Fraser Country, and the Sunshine Coast. This non-profit society is governed by a private sector board of directors who represent business and community tourism interests from throughout the region. VCMBC works with Tourism British Columbia to utilize their combined resources and provide greater benefits to the provincial tourism industry through an integrated web presence. For more information about Vancouver, Coast & Mountains visit our website or call 604-739-9011.