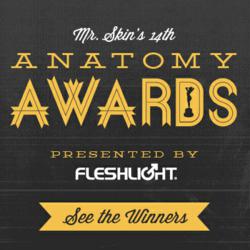 Chicago, IL (PRWEB) February 20, 2013
Mr. Skin of MrSkin.com--the world's #1 resource for celebrity nudity—has announced the winners of Mr. Skin's 14th Annual Anatomy Awards LIVE on The Howard Stern Show! Mr. Skin's Anatomy Awards sponsored by Fleshlight™ pay tribute to the actresses who bared flesh in film and television throughout 2012.
The top Anatomy Awards winners this year include:
BREAST PICTURE
About Cherry
BEST TV SHOW FOR NUDITY
Magic City
CELEBRITY NUDE DEBUT
Nadine Velazquez in Flight
BEST BUTT
Stephanie Fauntauzzi in Shameless
BEST FULL FRONTAL
Sarah Silverman and Michelle Williams in Take this Waltz
BEST BREASTS
Sophie Rundle in Episodes
NUDECOMER OF THE YEAR
Ashley Hinshaw in About Cherry
Other honorees include Helen Hunt in The Sessions for Best Over 40 Nude Scene, Kate Upton in The Three Stooges for Best Nunkini, and Alison Brie for Best Nip-Slip. This year's Lifetime Skinchievement Award went to sexploitation legend Sylvia Kristel, who is best known for her fantastically nude roles in the Emmanuelle film series.
For a complete listing of the winners visit Mr. Skin's 14th Annual Anatomy Awards page at: http://www.mrskin.com/anatomyawards
A very special thanks to our sponsor Fleshlight™ - the number one selling male sex toy - for offering Mr. Skin fans 20% off!
For media inquires on this topic and/or to book Mr. Skin for an interview, contact Pete McMurray at (312) 933-5963 or by email at Pete(at)mrskin(dot)com.
About Mr Skin and MrSkin.com
Mr Skin is the world's foremost authority on celebrity nudity. His website - MrSkin.com - is the #1 online resource for celebrity nudity news and reviews. MrSkin.com attracts more than 8 million users every month who come to experience the site's vast library of celebrity nudity material - more than 20,000 actress bios, 30,000 movie and TV show reviews, plus over 200,000 photos and videos. Mr Skin is one of the most sought-after guests in radio and The Mr Skin Minute can be heard every week on The Howard Stern Show. MrSkin.com played a pivotal role in the blockbuster Hollywood comedy Knocked Up (2007). The Mr Skin Skinpire has been profiled in The New York Times, The Wall Street Journal, USA Today, Playboy, Maxim, The Chicago Tribune, The Chicago Sun-Times, and The New York Post. Mr Skin has also appeared as a celebrity nudity expert on VH1, E!, BBC, and Comedy Central. Be sure to follow Mr. Skin on Facebook and Twitter.