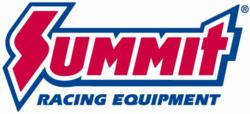 Tallmadge, OH (PRWEB) February 15, 2013
The video covers a Hot Rod Magazine test session of three Factory Five cars conducted at Las Vegas Motor Speedway this past January. The editors tested the Summit Racing Mk4 at the facility's drag strip (The Strip) along with three other Factory Five cars: another Mk4 Roadster, a Daytona Coupe, and a '33 Hot Rod. Hot Rod also pitted three of the Factory Five cars against a Lamborghini Gallardo on a nearby road course, courtesy of Exotics Racing.
A story on the test session will be featured in Hot Rod Magazine later this year.
LINK TO HOT ROD UNLIMITED VIDEO: http://www.youtube.com/watch?v=V96-AQ1FghI&feature=em-uploademail
Three of the Factory Five cars, including the Summit Racing Mk4 Roadster, were subjected to performance testing on Modified Mustangs and Fords Magazine's Dynojet chassis dyno. Each car features a different drivetrain combination—a 427 cubic inch Ford Windsor, a 306 cubic inch small block Ford, and a Ford Racing 5.0L 'Coyote'—now available at Summit Racing. The test sessions will be featured in the June 2013 issue of Modified Mustangs and Fords.
LINK TO MODIFIED MUSTANGS AND FORDS FACEBOOK PAGE: https://www.facebook.com/modmustangsandfords?ref=stream
LINK TO SUMMIT RACING FACTORY FIVE DRIVETRAIN COMBOS: http://www.summitracing.com/search?keyword=Summit%20Racing%20Factory%20Five&dds=1&GroupBy=ProductName
Summit Racing Equipment
1-800-203-3030
http://www.SummitRacing.com