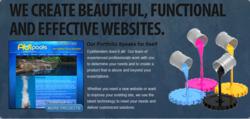 We work with you and for you. We help you market and promote your website, and provide monthly analysis of your site's activity to ensure that you optimize communications with your audience and maximize your exposure.
Charlotte, N.C. (PRWEB) February 19, 2013
Eyebenders was awarded the "Best of the Best" designation for excellence by Follow Media Consulting, Inc. in the category of Web Design Charlotte NC. This award signifies the continued commitment and dedication of the areas best in web designing services.
EyeBenders is a full-service marketing, design and web development company located in Matthews, North Carolina. Their team of experienced professionals work with clients to determine needs and to create a product that is above and beyond expectations. Whether a client needs a new website or wants to improve their existing site, Eyebenders uses the latest technology to meet their needs and deliver customized solutions.
First impressions are everything. A website is often the first point of contact with potential customers. Does it reflect the company's personality and provide information in an easily accessible manner? If not, then EyeBenders is the choice.
Eyebender's services includes:
Web Design
Mobile Website
Web Development
E-Commerce
Domain Registration & Web Hosting
Marketing & Promotion
Search Engine Optimization/Social Media
Audio & Video
Graphic Design
DVD Slide Shows/Presentations
To know more on their services visit their website at http://www.eyebenders.com/ or call their phone number at 704.846.8574 and get a free estimate!
About Follow Media Consulting, Inc.
Named one of the best SEO companies by Jonas Marketing, Follow Media Consulting, Inc. is a rapidly growing worldwide firm of SEO, Social Media, and Mobile Marketing Professionals. Follow Media Consulting, Inc. headquarters is located in Richmond, VA. However, our professional team is networked across the world, with regional offices across the United States, in the United Kingdom, Canada, Australia, France, South Africa, the Philippines, and India.