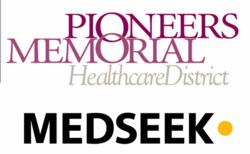 "We have confidence that MEDSEEK will not only make data readily available from our variety of systems, but deliver a leading edge solution that our patients will want to visit," states Steve Campbell, Pioneers Memorial COO.
Birmingham, AL (PRWEB) February 19, 2013
Known for delivering excellent care with compassion,Pioneers Memorial Healthcare District(PMHD) will provide their physicians, staff, patients and families solutions that enhance care across the continuum with MEDSEEK.
As Meaningful Use Stage 2 will require patients to view their health records online and send secure messages in order for providers to receive incentive payments, delivering an intuitive portal with self-service tools that patients will find valuable is the key to success. "Like other hospitals striving to achieve Meaningful Use Stage 2, time is of the essence for us," states Daniel Smith, CFO for Pioneers Memorial. "MEDSEEK makes financial sense. I am confident that MEDSEEK will deliver their sophisticated patient engagement solution on time and on budget!"
With a DNV accreditation approved by the Centers for Medicare & Medicaid Services (CMS), Pioneers Memorial focuses on quality, innovation and continual improvement using best of breed HIT systems throughout the hospital. However, to provide a single comprehensive view of patient information, Pioneers Memorial looks to MEDSEEK's vendor-agnostic, enterprise patient portal to bridge the gap of using disparate systems. "We have confidence that the MEDSEEK patient engagement solution will not only make data readily available from our variety of systems, but deliver a leading edge solution that our patients will want to visit," states Steve Campbell, Pioneers Memorial COO.
Pioneers Memorial envisions the patient portal becoming the face of the organization while individuals are outside the four walls of the hospital. "Delivering an outstanding solution to our patients and giving them the best available tools to manage their health is our top priority," says Kathy McKernan, Director of Information Systems for Pioneers Memorial. "MEDSEEK not only has worked as an advisor on our behalf, but will deliver a certified patient portal right the first time, helping us meet Meaningful Use and exceed patient expectations."
With the patient-centric motto, Caring for you today and…tomorrow, Pioneers Memorial will give patients the ability to easily track and manage their health online, empowering them to more conveniently communicate with their providers, make appointments, view lab results and much more from anywhere. "Acquiring a robust patient engagement tool further emphasizes our commitment to the future of PMHD and our patients," states Steve Campbell, Pioneers Memorial COO.
Pioneers Memorial is committed to healthcare excellence through transformational improvements, and outcomes that exceed the expectations of those they serve. Adding the MEDSEEK Empower patient portal and MEDSEEK Connect clinical portal will further support their strategic goals.
To learn more about how to engage your patients, staff and clinicians with dynamic technology, contact MEDSEEK at marketing(at)medseek(dot)com or 1.888.MEDSEEK.
About Pioneers Memorial Healthcare District
Pioneers Memorial Hospital is a highly recognized 107-bed acute care facility accredited by DNV*, committed to providing state-of-the-art healthcare, and complemented by the highest quality of community education. DNV, Det Norske Veritas, is the Nordic Truth hospital accreditation organization approved by the U. S. Center for Medicare and Medicaid (CMS) with some of the most strenuous standards in healthcare. Located in Imperial Valley in the southeastern part of California, Pioneers opened its doors in 1950 and is technologically very advanced for a hospital of its size.
About MEDSEEK
Since 1996, MEDSEEK has focused exclusively on creating a strategic patient engagement platform comprised of web, mobile, social and predictive analytic solutions designed to meet the unique needs of healthcare consumers and patients. Maximizing an organization's existing IT investments, MEDSEEK solutions improve patient access to health information and provide convenient, self-service tools that improve satisfaction, activation and health outcomes. With MEDSEEK, hospital and health system clinicians and employees can better predict the needs of their patient population, uncover new sources of revenue, empower patients and families as participants in their care, lower healthcare costs, and provide a superior online healthcare experience that results in lasting health-related loyalty. MEDSEEK has over 200 customers representing over 1,100 hospitals including many of the top hospital systems in the United States and Canada.