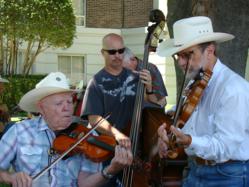 The Athens Old Fiddlers Reunion has moved to Saturday to allow for more student contestants and people who can't get off work on Friday to be able to attend the event, said Mary Ensign, coordinator for the Athens Old Fiddler's Association.
(PRWEB) February 21, 2013
The words to a popular country song declares, "If you're gonna play in Texas, you gotta have a fiddle in the band."
Beginning on Friday night, May 31st, Athens will not be in short supply of fiddlers when the 82nd Annual Athens Old Fiddlers Reunion comes to town.
Festivities for the annual event will begin at 7 p.m. on Friday night with an open jam session on the courthouse lawn. On Saturday morning, June 1st, the Fiddlers Contest will kick off at 9:00 a.m. and will run throughout the day with the Grand Champion Playoff beginning at around 5:00 p.m. At 8:00 p.m., there will be a Street Dance that will be held in front of the Bandstand on the Downtown Courthouse Square. With concession and novelty stands set up along the sidewalks and a carnival just off the Courthouse Square, there is something for everyone of all ages.
The now annual tradition began in 1932 in the Bethel Community, just north of Athens. The county wide fiddlers' contest was held as a climax to a farmers' study course. More than 900 attended the first contest.
In 1933, the contest moved to Athens High School and had to be held twice to accommodate the large crowd. In 1934, the reunion was moved to its current location on the Courthouse Square.
Over the last 82 years, the Athens Old Fiddlers Reunion has weathered the Great Depression, World War II, the Baby Boom, the Korean War, the Cold War, the Vietnam War, Desert Storm, 911 and the War in Iraq. Since it began, man has walked on the moon, shattered the sound barrier and shrunk computers to the size of pocketbooks.
The common bond for most who attend the Fiddlers Reunion is a love for music. The Athens Old Fiddlers Reunion serves as a homecoming for many people. They gather on the Courthouse lawn, bringing their quilts and lawn chairs to sit on while listening to the music and renewing old acquaintances.
The Athens Old Fiddlers Reunion is an endeavor to perpetuate the music of our forefathers, which originated in the desire for pleasure and relaxation.
About the City of Athens:
The City of Athens, Texas is a scenic, idyllic town offering relaxation and a break from the hustle-and-bustle of everyday life. With its nature trails, fall foliage, fishing sites, scuba diving facilities, rodeos, and vineyard, it appeals to adventure enthusiasts and casual travelers alike. Athens is also the nationally acclaimed "home of the original hamburger." For more information about Athens, including hotel accommodations and the Old Fiddlers Reunion, visit http://www.AthensTX.org.