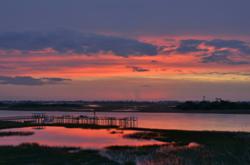 Coastal North Carolina
Wilmington, North Carolina (PRWEB) February 15, 2013
Wilmington NC located in Brunswick County has become one of the fastest growing cities on the coast. This coastal area has seen 20% growth between 2005 and 2010. Another 20% is expected between 2010 and 2020. It appears Baby Boomers who are relocating are going 'retro' migrating back to revitalized historic cities. The English colonist's founded Wilmington NC in the early 1700's along the Cape Fear River to harvest the rich natural resources. Today, Wilmington North Carolina has been named one of the Best Places to Live by Money Magazine and here is why Real Estate Scorecard agrees:
BEST BEACHES - Wrightsville Beach is named one of the Top 10 Surf Towns in the U.S. by Surfer Magazine and is a great place to people watch, grab a foot long hot dog at the Trolley Grill or savor local seafood at the award winning South Beach Grill. Local's and retirees prefer Carolina Beach, Kure Beach and Fort Fisher known as Pleasure Island. These Brunswick County best beaches are less crowded, less commercialized and have charming boardwalks and fishing piers.
BEST SMALL ART TOWN - Wilmington NC is a great town for fine art lovers and art collectors. The Cameron Art Museum provides high quality art exhibits and art classes at The Museum School. There are plenty of opportunities to enjoy and learn about art in this best small art town in coastal North Carolina.
CELEBRITY MAGNET - Since 2006 when the Governor of North Carolina offered a 15% tax credit to the film industry, Wilmington NC has seen a dramatic increase in movies filmed in the coastal region of North Carolina. Did you know more than 400 projects have been filmed in Wilmington NC? EUE/Screen Gem Studios is the largest production facility east of Hollywood and is located in Wilmington NC.
CUISINE - According to Yelp, there are 372 restaurants in Wilmington NC. Whatever your palate desires, you can be sure you will find romantic restaurants, waterfront dining and outdoor cafes on Front Street or you could dine on the Henrietta III riverboat cruising the Cape Fear River.
GREAT GOLF / GREAT WEATHER - With the average temperatures ranging from 46 to 81 degrees, Wilmington NC weather is not extreme. There are 28 golf courses in the immediate area. Many of the golf courses in Brunswick County NC are private and closed for public play. There are several Wilmington North Carolina golf communities ideal for retirement which will allow you to play with advance notice.
INTRACOASTAL WATERWAY BOATING - Sailboats and yachts decorate the docks along the Cape Fear River and Intracoastal Waterway. Boating the Intracoastal Waterway in Wilmington NC is easy and requires less boating skills. Several master planned communities in the Brunswick County area Real Estate Scorecard has scored have full service marinas and quick ocean access.
PATRIOTISM / HISTORY - The USS North Carolina battleship can be easily seen from downtown Wilmington NC as it is docked just across the river. As one of Wilmington's most popular tourist attractions, over 200,000 visitors tour this floating war memorial each year in Brunswick County NC. Warehouses along the downtown waterfront still give you a sense of Wilmington's military history.
SHOPPING - The Mayfaire Towncenter in downtown Wilmington NC has been voted Best Shopping Center for six years in a row. The Independence Mall has over 100 name brand stores and box stores are nearby. Discount stores such as Costco, Sam's Club, Wal-mart and the Wilmington Factory Outlet Mall can be found in the vicinity of the University of North Carolina at Wilmington.
TOP MEDICAL CARE - The new Brunswick Novant Medical Center opened July 2011 in Bolivia NC and is just south of Wilmington NC. The $107 million 252,370 square foot hospital was built featuring high tech medical technologies attracting the leading physicians and top medical specialties. Brunswick County NC residents have several outstanding hospitals to choose from.
QUICK ACCESS TO METRO CITIES - The east-west Interstate 40 corridor begins in Wilmington NC and ends in Barstow California. The north-south corridor Interstate 95 can be accessed in Florence South Carolina and is about 2 hours east of downtown Wilmington NC, highway access connecting to cities in the northeast and the southeast.
If you're considering relocating to Brunswick County North Carolina, Real Estate Scorecard offers free Relocation Booklets to help folks get to know the area better.
About Real Estate Scorecard
Real Estate Scorecard is an unbiased real estate review website providing in depth information about the best master planned communities in Florida, Georgia, North Carolina, South Carolina and Tennessee, all in an effort to help people discover where to retire. Website address: http://realestatescorecard.com