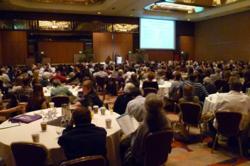 It's the place to be if you're gluten-free
Woodland Hills, CA (PRWEB) February 25, 2013
The largest meeting of its kind in the country will be held at the Pasadena Convention Center on May 4-5. The 2 day event kicks off Saturday, May 4 with the annual National Education Conference and Gluten-Free EXPO (7:30 am – 4:30 pm). The event is open to the public and will provide education, support and awareness of celiac disease and gluten-sensitivity
Experts from the medical & nutrition communities will provide information and latest research in the field of celiac disease and gluten-sensitivity all geared toward living a successful gluten-free lifestyle.
Attendees will have an opportunity to go behind the scenes with the leaders of top pharmaceutical companies as they share developments in cutting-edge, emerging treatments.
Saturday, a gluten-free pancake and bacon breakfast will be provided courtesy of Pamela's Products and Jones Dairy Farm. Additionally a delicious gluten-free lunch will be served along with opportunities to connect with peers, local support groups and services. A gluten-free beer garden will provide samples from a variety of gluten-free brews.
Saturday admission will provide VIP private access to the Nation's Largest Gluten-Free EXPO including 100+ exhibitors showcasing the best and newest products the gluten-free world has to offer. A bag full of gluten-free coupons and goodies is included with every admission.
Brand new gluten-free products from your favorite food manufacturers that will be unveiled on this day.
Featured speakers include:
Joseph Murray, MD - Keynote speaker, international expert in celiac disease and non-celiac gluten sensitivity, Gastroenterologist and Professor of Medicine at Mayo Clinic in Rochester, Minnesota
What's in Your Gluten-Free Food? – Panel discussion by expert registered dietitians from top gluten-free food manufacturers and mainstream supermarkets, including Gelsons Markets, Frito- Lay, and Anne Lee, MS, RD from Schar. The panel will be moderated by Tricia Thompson, RD - "The Gluten-Free Dietitian"
Breaking Therapies in Celiac Disease - Panel discussion featuring leaders from Alba, Alvine, BioLineRx and ImmusanT on their emerging treatments
Attendees will also have an opportunity to "Dine with the Experts" Saturday Evening (6:30 pm – 8:30 pm)
Saturday's attendees enjoy complimentary admission to Sunday's Gluten-Free EXPO.
May 5 - Sunday EXPO
The Gluten-Free Expo continues at the Pasadena Convention Center (10 am – 3 pm) Sunday's attendees will experience firsthand the abundance of gluten-free foods in today's marketplace with free samples to taste, products to buy and live entertainment. Other activities include gluten-free cooking demonstrations, book signings, Teens-only lunch, and the "New-To-Gluten-Free and Parent Support Lounge".
Celiac Disease Foundation is a non-profit, public benefit corporation dedicated to providing services and support regarding celiac disease and dermatitis herpetiformis, through programs of awareness, education, advocacy and research.
Since its inception in 1990, Celiac Disease Foundation has been at the forefront of celiac disease education, awareness, advocacy, and support services.
CDF is a founding member of the American Celiac Disease Alliance (ACDA) and is actively involved with the National Institutes of Health (NIH), NIH Celiac Disease Awareness Program, .
CDF's awareness campaigns include "Are You the ONE?", "Is Your Child the ONE?" and "Is Your Patient the ONE?"
Sponsors and Exhibitors include:
Leadership Sponsor: General Mills, Inc.
Major Sponsor: Blue Diamond Almonds
Premier Sponsors: Frito-Lay North America; Jones Dairy Farm, Uci's and Glutino.
Partner Sponsors: B & G Foods, Inc.; Cream of Rice®; French Meadow Bakery; GG's Originals, LLC; Gorton's Seafood; Hodgson Mill; Mary's Gone Crackers; Pamela's Products, Inc.; Rudi's Gluten-Free Bakery; Silver Hills Bakery; SO Delicious; Hidden Valley Ranch, TH Foods, Inc., Crunchmaster® Crackers; Massel, Breads by Anna and Van Law Food Products, Inc.
Register before April 1st for discounted rate!
Conference registration is NOW AVAILABLE ONLINE
REGISTER NOW
or by calling (818) 716-1513