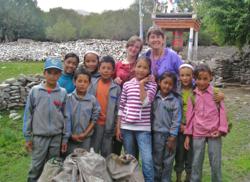 Much more than a traditional tour operator, Global Family Travels' mission is to "Learn, Serve and Immerse," using travel as a means to build cultural bridges.
Bellevue, WA (PRWEB) February 20, 2013
Global Family Travels has released its highly anticipated 2013 tours, each focusing on family adventures exploring the earth's most culturally rich places, while giving back to become better global citizens. Much more than a traditional tour operator, Global Family Travels' mission is to "Learn, Serve and Immerse," using travel as a means to build cultural bridges. The company is expanding its offerings; while their flagship tour of the Buddhist region, Ladakh, India continues to be in high demand, new adventures in central India, China and Turkey will add to the delight of their loyal community of world travelling guests.
"We are committed to our core values of social and environmental ethics, and it's our belief the best way to foster these values in the next generations is to give them the gift of recognizing their place in the global community," says Jennifer Spatz, owner and founder of Global Family Travels. "As we strengthen our connection to the world around us and begin to see ourselves in others we can't help but feel a deeper sense of responsibility for the impact of our actions. This lends itself to the goal at the heart of our company – for us all to become better global citizens."
Every Global Family Travels itinerary features educational sightseeing, cultural immersion, home stays with local families, meaningful service projects, and perhaps most importantly, fun activities designed to keep all ages happy and engaged.
Global Family Travels is proud of its accomplishments since launching in 2010. An example of how the company helped inspire travelers to help others, comes from their inaugural trip to Ladakh in 2010. The company partnered with the Siddhartha School in support of environmental projects. Travelers helped school children collect more than 30 huge bags of litter from the remote Himalayan village. The company also supported the students throughout a grassroots campaign to discourage the use of plastic bags and to educate people about the dangers of burning plastic in the home as a means of disposal. One year later, all the parents of students involved with the project had stopped this common yet health-endangering practice.
Here's a snapshot of tours in 2013:
A Family Journey to "Little Tibet," Ladakh, India – August 2013
14 days & 13 nights
Itinerary: New Delhi, Agra, Leh, Stok, Delhi
Details: Exploring New Delhi's Presidential Palace, Leh's Tibetan handicrafts markets at the crossroads of ancient trading routes, Stok's ancient monasteries and the Taj Mahal in Delhi. Guests can make meaningful contributions by participating in a village clean up in Stok with partner The Amale Society, and by sponsoring the education of a student at the Siddhartha School Project.
Discover China: A Photo Tour – July 2013
12 days & 11 nights
Itinerary: Beijing, Shanghai, Guilin, Yangshuo
Details: Internationally renowned photographer Dan Sandoval will accompany guests throughout the trip to provide instruction to help capture the beauty of China. Highlights include a visit to the 999.5 rooms of the Forbidden City in Beijing, exploration of the European architecture of the 18th and 20th centuries in Shanghai, and a rewarding hike of Yangshuo's Moon Hill. The tour includes three days of service learning at a school for the children of migrant workers with the assistance of Sunrise Library, an organization that provides libraries in under-funded schools.
For more information on Global Family Travels' 2013 tours, please visit http://www.globalfamilytravels.com
About Global Family Travels:
Global Family Travels, a Bellevue, Washington-based company, offers cultural immersion and service learning tours for families which include a unique mix of cultural and educational activities, home-stays, and participation in local service projects aimed at improving the lives of the communities we visit. Through its three pillars of learn, serve and immerse, the company's mission is to build cultural bridges and to foster global citizens who will take responsibility for the challenges facing our global community.