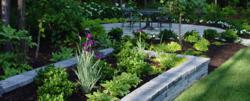 The quality of the work done is so amazing. They really did a great job on the project I gave them and even completed the work on time! I am sure I will render their service again for my future lawn projects!
Richmond, VA (PRWEB) February 24, 2013
Green Side Up Landscaping was awarded the "Best of the Best" designation for excellence by Follow Media Consulting, Inc. in the category of Richmond Landscape and Richmond Landscaping. This award signifies the continued commitment and dedication of the areas best in lawn maintenance and landscaping services.
Green Side Up Landscaping is a full service landscaping company serving Richmond and Williamsburg, Va. Their company is currently owned by three people but with only one vision: to create enduring outdoor living spaces in balance with nature that surround the senses with seasons of colorful low-maintenance beauty.
As an ICPI-Certified contractor, they guarantee their paver hardscapes for their craftsmanship — for as long as clients live at their home. Their residential and commercial renovations are in demand because they're built to last by degreed professionals with higher standards. Since their inception in 2004, the work they do begins in their hearts, and rewards clients with properly drained, healthy, colorful retreats, drives or entrances that they'll love for a lifetime.
Green Side Up is a full service landscaping contractor. Whether outstanding needs are new landscaping, creating beautiful hardscapes or simply maintaining a yard and gardens they can help to improve the look and value of a property. Green Side Up can help with drainage problems and protect a home's foundation or build an outdoor retreat that clients will want to share with friends and family for years to come. Call them today at 804-514-4610 to discuss landscaping needs and dreams and let them help make it a reality.
About Follow Media Consulting, Inc.
Named one of the best SEO companies by Jonas Marketing, Follow Media Consulting, Inc. is a rapidly growing worldwide firm of SEO, Social Media, and Mobile Marketing Professionals. Follow Media Consulting, Inc. headquarters is located in Richmond, VA. However, our professional team is networked across the world, with regional offices across the United States, in the United Kingdom, Canada, Australia, France, South Africa, the Philippines, and India.