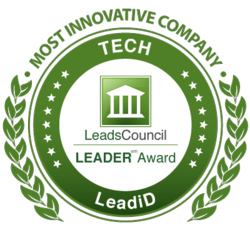 Philadelphia, PA (PRWEB) February 18, 2013
LeadiD, the first and only independent, neutral platform that collects definitive information about the origin and history of a lead using a safe and secure methodology, is pleased to announce that it is the winner of the coveted Most Innovative Company award in the 2013 LeadsCouncil LEADER Awards program.
The third annual LEADER Awards showcase leading companies in online lead generation. Established to benchmark preeminent lead sellers and lead technology partners, the LEADER Awards are conducted in three industry verticals: Insurance, Education, and Mortgage plus one horizontal category of Service Providers.
"We're honored to be selected by LeadsCouncil, and especially humbled by the recognition from our peers and for setting the standard for trusted transactions as our industry continues to evolve and move forward," said Ross Shanken, founder and CEO of LeadiD. "Our vision at LeadiD is to provide a technology platform that ensures practices and standards are operationalized across the industry. Our goal is to support quality and trust in lead generation that benefits lead generators, lead aggregators, lead buyers, and third party technology providers alike."
LeadiD embeds trust into every lead transaction – providing a holistic, alternative solution for "data transparency" that, until this point, has been difficult to achieve. The company's technology platform derives and synthesizes data that is useful to both lead sellers and buyers. The company's Universal LeadiD marks the unique lead event, and is currently utilized across multiple verticals. Over 150 firms are actively engaged with LeadiD, confirming market demand for a trusted platform and unified willingness to align with LeadiD as the singular neutral standard. LeadsCouncil members embracing and driving LeadiD as the standard include: AcademixDirect, All Web Leads, Adchemy, CPA Detective, Datamark, Precise Leads, The Lead Company, LeadQual, Lead 5 Media, DMI Partners, Ampush Media, XL Education Corp, Geary LSF, Tightrope Interactive, Sparkroom, and many more.
"LeadiD's selection as Most Innovative Company -- the only write-in award -- is a clear sign of growing industry acceptance of LeadiD as the standard in lead authentication and trusted transactions," said Michael Ferree, director, LeadsCouncil. "LeadiD provides LeadCouncil members a technology platform that deepens the partnership between buyers and sellers, a standard that LeadsCouncil has endorsed."
About LeadiD
Founded in January 2011 by Ross Shanken, LeadiD is the only independent, neutral, open technology platform, which tracks the origin and history of every lead event that utilizes the LeadiD system. No supplier-proprietary data is exposed, but rather, LeadiD allows Lead Sellers and Lead Buyers to make real-time decisions based upon definitive origin and history flags that are predetermined. LeadiD fosters an environment of trust in the transaction, one where both Lead Sellers and Lead Buyers alike derive top-line value. With unmatched data, LeadiD is the industry standard for authenticating lead origin and history and the authentication platform of choice for firms of all sizes. For more information, visit leadid.com.
About LeadsCouncil
LeadsCouncil is the first independent industry organization dedicated strictly to advancing online lead generation. LeadsCouncil members include lead buyers, lead sellers, technology solutions providers, and investment professionals with a passion for the lead generation industry. The group focuses on best practices, research, education, and networking to provide a more transparent and effective marketplace for online lead generation. http://www.leadscouncil.com
Media Contact:
Natalie Stopko
Director of Marketing
(215) 610-1624
marketing(at)LeadiD(dot)com
Michael Ferree
LeadsCouncil
(619) 618-1200
mferree(at)leadscouncil(dot)com