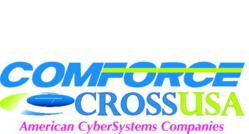 Comforce and CrossUSA at CIOsynergy Atlanta, will provide event attendees with an additional layer of industry insight and thought leadership...says Patrick Mason - Dir. of Comm. & Marketing | CIOsynergy.
Hoffman Estates, Illinois (PRWEB) February 17, 2013
CIOsynergy, a provider of thought leading conferences, today announced American CyberSystems' participation at its event on February 21, 2013 in downtown Atlanta, Georgia.
"We are thrilled to have Comforce and CrossUSA at CIOsynergy Atlanta. As leading providers of IT staffing and domestic outsourcing solutions, their presence will provide event attendees with an additional layer of industry insight and thought leadership," says Patrick Mason, Director of Communications and Marketing at CIOsynergy.
"American CyberSystems looks forward to discussing the latest trends in information technology staffing and especially domestic outsourcing which is the latest IT trend focused on quality outsourcing and managed services being provided at a value within the United States," says Charles Halash, Executive Vice President, American CyberSystems.
COMFORCE, an American CyberSystems Company (ACS) is a certified MBE staffing solutions company, servicing the largest organizations in the world focused on IT, Engineering, Healthcare and Government staffing. In over fifty years, COMFORCE has grown to $400 Million in sales revenue with 6,500 employees working on a global basis for over half of the Fortune 125.
COMFORCE has extensive expertise in delivering cost savings and compliant information technology and engineering solutions to customers through traditional software development, maintenance and enterprise system integration methodologies. Engagements are staffed through a unique Global Recruiting Center operation based in Noida, India servicing our customer base on a 24 x 7 global basis wherever the need. The model is supported domestically for our U.S. based customers with recruiting centers in Atlanta, Georgia, Birmingham, Alabama and Chicago, Illinois.
ACS Technology solutions subsidiary CrossUSA Domestic Outsourcing was founded in 1998 basing its unique business model on the premise that high end IT solutions work can be delivered from rural America. CrossUSA clients are able to outsource their IT needs to US-based employees situated in lower cost-of-living areas with savings passed right on to them. Intellectual capital investments remain with CrossUSA clients over the long term, delivering real value for years to come. After over ten years of success, CrossUSA continues to thrive and produce for a number of Fortune 100 companies.
CIOsynergy Atlanta is an exclusive opportunity for leading local CIO and IT executives to network and brainstorm daily hurdles in an unparalleled learning environment under the umbrella of the founder of Monster.com, keynote of the event, Jeff Taylor. As an expert in technology, advertising, and human capital, Taylor zeroes in on what lies ahead, sensing economic upheaval, changing global employment, and the shift in doing business that Web 2.0 has created. Envisioning ways to capitalize on these evolving trends with technology and the power of human capital, Taylor taps into his experience to advise businesses on how they can break away from the competition by adopting a new mindset and getting in early with social networking.
At CIOsynergy Atlanta, a panel of leading CIOs moderated by Scott Shuster will share and explore how CIOs can be successful in their role. Mr. Shuster has led virtually every Business Week CEO, CFO, and CIO Conference held since the founding of the magazine's events group at more than 100 of the world's most prominent gatherings of large company leaders and senior executives.
Open to Fortune 500 and mid-market enterprise, CIOsynergy's events gather senior executives from the office of the CIO including Directors, VPs, Chief Architects, CIOs and CTOs.
For more information about or to participate in CIOsynergy Atlanta, visit: http://hiregenics.CIOatlanta.com, or contact Araceli Delgado, Project Coordinator at aracelid(at)ciosynergy(dot)com or 1.847.278.2213 ext. 899.
About CIOsynergy
CIOsynergy provides a platform that brings together the thought leaders of IT through events that incorporate face-to-face meeting opportunities, panel discussions, think tanks and keynotes and C-suite networking programs. Previous events have attracted C-suite leaders from companies such as Wal-Mart, Salesforce, Home Depot, Bank of America, Forbes Media, Wells Fargo, Shell, Allstate, State Farm, Career Education Corp, Pepsi, Sara Lee, Kraft, BP, Loyola University, Kaiser Permanente, Mayo Clinic and Walgreens. The company operates nationwide and has previously partnered with sponsors such as IBM, 3Com, VMware, Unisys, Hitachi, Oracle, SunGard, Dell, Google, Amazon and HTC among hundreds more.
About American CyberSystems, Inc.
Founded in 1998, American CyberSystems, Inc. is a global information technology services company offering IT consulting and staffing services, systems integration, and business solutions to organizations in a variety of industries for Fortune 1000 companies worldwide. For more information about American CyberSystems, please visit http://www.acsicorp.com.
About Comforce
Comforce is a global staffing solution provider serving the largest organizations in the world focused on Healthcare, IT, Professional and Government staffing. Commitment to our clients, employees and stakeholders is the foundation of our mission. For more information, please visit http://www.comforce.com.
About CrossUSA
Founded in 1998, CrossUSA is a nationwide provider of Information Technology outsourcing solutions leveraging several US-Based Rural Development Centers that offer our customers workforce stability. CrossUSA's Rural Development Center delivery model provides organizations in the Healthcare Insurance, Healthcare provider, financial services and manufacturing industries with experienced, dedicated teams of consultants that provide stable, low-cost work force solutions for long-term projects and support. For more information please visit http://www.cross-usa.com.