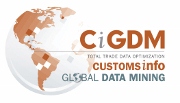 Eden, UT (PRWEB) February 16, 2013
Torrey Shoel has been recognized as one of Supply & Demand Chain Executive Magazine's 2013 Provider Pros to know.
Torrey Schoel is Director of Operations at Global Data Mining. He has deep experience as a specialist in business process optimization, developing technology solutions to streamline business processes and leading corporate-wide change strategies. His educational and professional background has honed his skills as an effective communicator and documenter of complicated projects. As a liaison between operations and technology development teams in the recovery auditing industry, Torrey received corporate-wide recognition for his contributions to fortune 1000 clients. Most recently, Torrey has led the integration of data and systems of a recent CUSTOMS Info acquisition (Tariffic International) and is the project leader for the development of GDM's 2007 HS Reform screening process.
Supply & Demand Chain Executive Magazine's annual list of Provider Pros to Know highlights the many thought-leaders who are helping to shape the supply chain industry and advance supply chain as a respected discipline in the enterprise. Their efforts in developing the tools, processes and knowledge base necessary for supply chain transformation, and in promoting new approaches to supply chain enablement, have earned them a place on this year's Provider Pros listing.
The 2013 Pros to Know will be featured in the March issue of Supply & Demand Chain Executive, both online and in print.
To connect with Torrey on Linkedin, go to: http://www.linkedin.com/pub/torrey-schoel/6/449/8ab
About CiGDM:
CUSTOMS Info (Ci) and its sister company Global Data Mining (GDM) help businesses optimize global trade management (GTM) systems and streamline global trade automation.
Ci provides the world's most comprehensive trade data repository delivered via web-based subscription, API web services or as data to populate any GTM or Landed Cost application. Ci is the largest provider of duty and tax content for international e-commerce with hundreds of e-commerce sites utilizing our data to provide accurate landed cost information. Our data and services provide faster deliveries and fewer border delays.
GDM helps multi-national companies increase the informational value of trade data and the productivity of global trade staff to reduce operating costs, improve customs compliance, accelerate supply chain speed and maximize the return on investment of this corporate function.
Our specialized strategy focuses on five areas of trade data optimization. Customs Info offers regulatory data formatted for lightning fast on-line research (#1) or formatted for computer automation (#2). GDM specializes in item compliance management (#3), customs audit compliance (#4), and business intelligence that identifies and quantifies financial opportunities and risks (#5).
Working in conjunction with GTM applications, Global Data Mining and CUSTOMS Info's strategic partners include SAP, Oracle, and other trade software partners. Please visit http://www.customsinfo.com , http://www.gdmllc.com for more information.