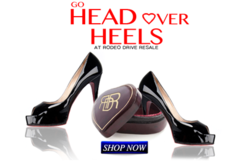 (PRWEB) February 18, 2013
Rodeo Drive Resale (http://www.shoprdr.com), premier reseller of 100% authentic discount Christian Louboutin heels, Louis Vuitton handbags and other top designer fashions, invites shoppers to fall in love with designer pumps all over again during a special February promotion titled, "Head Over Heels."
Every shoe lover has their preference, but most agree: When it comes to style and status, few designers have created a niche in the world of upscale fashion like Christian Louboutin, whose high-end heels have become a fashion favorite both for their superior craftsmanship and their signature red-lacquered soles.
During "Head over Heels," luxury enthusiasts can score big savings on an array of highly coveted heels including Dolce & Gabbana embossed & crystal patent leather sandals, black Fendi patent leather heels, Gucci suede buttoned pumps and several others, all of which are backed by a 100% guarantee of authenticity.
ShopRDR.com's heel blowout could not have arrived at a better time, as around the globe, officials continue to crackdown on counterfeit luxury goods.
In August, time U.S. Customs and Border Protection reported a seizure of four shipments of bogus Christian Louboutin heels at the Los Angeles-Long Beach seaport complex on August 14. According to story by Dailymail.co.uk., customs spokesperson Jaime Ruiz said the shoes have a value of $57,490, but could have sold for nearly $20 million.
"They label the shipments as generic shoes when, in fact, they're bringing over contraband," Ruiz said about the shoes, which were reportedly set to be destroyed.
At Rodeo Drive Resale, an online luxury resale store with over a decade in the business, shoppers can choose from an array of designer items that include handbags, shoes, jewelry, accessories and watches. Their clients, which range from everyday bargain hunters to high profile celebs, are guaranteed 100% authenticity on every item in stock, which store co-founder Raya Jaffer says equals guilt-free shopping.
"Despite what you think, people know when you are faking it," she said. "Cities like New York are introducing new legislation that will make it a misdemeanor to purchase knockoffs.
Punishment can range from up to $1,000 or even a year in jail. Other cities are sure to follow. When shopping with shopRDR.com, buyers can rest assured that they are receiving guaranteed authentic heels from perhaps the only brand in the world that doesn't need a logo to be recognized."
Rodeo Drive Resale (shopRDR.com) has built a reputation of providing amazing deals on handbags, clothing and accessories from the top designers of upscale fashion. The company offers a 100% guarantee of authenticity on each item sold, and works daily with a network of clients looking to buy, sell, or for consignment of their luxury goods.
ShopRDR.com loves high-end fashion, and believes finding a high quality, classic piece should be an easy, enjoyable -- and most importantly -- hassle-free shopping experience. For the finest in Louis Vuitton, Chanel, Prada, Gucci, St. John Knits, Christian Louboutin, Tiffany & Co. and more, visit RDR online at http://www.shopRDR.com or call 1-888-697-3725. Also find shopRDR.com's blog at http://blog.shopRDR.com.
Also find shopRDR at:
Blog: blog.shopRDR.com
Facebook: facebook.com/shopRDR
Twitter: twitter.com/shopRDR
YouTube: youtube.com/ shopRDR
Pinterest: pinterest.com/shopRDR
Rodeo Drive Resale (shopRDR.com)
1-888-697-3725
service(at)shopRDR(dot)com