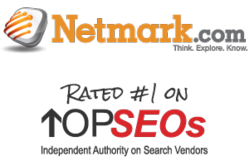 It is one of the greatest places to work. The environment is friendly, with an overarching focus on how our clients are performing and how we can push everyone, from employees to clients, to the next level
Idaho Falls Id (PRWEB) February 15, 2013
Netmark, an SEO company located in South Eastern Idaho, reports exponential growth. With the increased demands of Netmark's internet marketing acumen, Netmark has hired a wealth of talented and intelligent individuals to lead the company to new heights in the marketing and advertising industry. What began as a small two man company in a garage is now a growing company, with offices in Netmark's home city of Idaho Falls, the distant capital of Idaho, Boise, out-of-state offices in Texas, internationally with a remote office the UK, and elsewhere.
Netmark credits their growth on a number of factors, including specialized training to understand the Google algorithm, focusing on best practices recommended by Google and other reputable sources, and provided excellent client service and world-class communication. Netmark's commitment to client satisfaction and attention to detail has led to topseos.com, an independent search engine optimization ranking firm, to name Netmark "Best in Search" along with numerous other awards.
With the growth of Netmark, they have also hired a number of highly trained and specialized people to work at Netmark. Included on the Netmark payroll is Nathan Hawkes. Nathan is a long-time Netmark employee, working with the Chad Heath, the founder, owner and president of Netmark, and the CEO of Netmark, Josh Dalton, since the inception of the company. Nate brings years of sales experience and a deep understanding of search engine optimization available to any potential business that might call Netmark.
Another employee at Netmark is Jeff Shirts. Jeff has worked with Netmark for over a year and is one of the leading experts on content. Having worked for the US Department of Energy as a tech editor, he brings a critical eye of grammar and a deep, fundamental understanding of English to ensure that all content produced by Netmark is of the highest quality.
Talking of Netmark, Jeff has said, "It is one of the greatest places to work. The environment is friendly, with an overarching focus on how our clients are performing and how we can push everyone, from employees to clients, to the next level."
Netmark projects continued growth and expansion in the foreseeable future. Josh Dalton is creating a slew of new software aimed at giving greater understanding into the nature of Pay Per Click pricing and trends, as well as looking for a holistic approach to ranking factors in the Google algorithm.
Netmark is an excellent example of opportunity meeting preparation, and looks to grow their horizons in the foreseeable future.