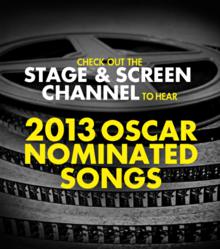 New York, NY (PRWEB) February 18, 2013
Starting today Music Choice will highlight Oscar nominated songs on its MC Stage & Screen Music Channel.
Original movie score's and individual song nominations will be featured throughout the week in anticipation of the big event. Additionally, a special one hour program will air on Sunday, February 24th from 7-8pm ET providing the ultimate soundtrack for Oscar night parties.
Song nominations including Adele's "Skyfall" from the movie Skyfall, Hugh Jackman "Suddenly" from Les Miserables, Norah Jones "Everybody Needs A Best Friend" from Ted, and J Ralph & Scarlett Johannson "Before My Time" from Chasing Ice will be featured on the channel as well as selections from nominated scores including Lincoln, Life of Pi, Argo, and Anna Karenina.
From Broadway to the big screen, MC Stage & Screen presents an original mix of the music made famous in epic blockbuster film scores, television and the Broadway stage. To locate Stage & Screen on individual TV channel guides log on to http://www.MusicChoice.com or follow us at Twitter: @MusicChoice | Facebook: facebook.com/MusicChoice
###