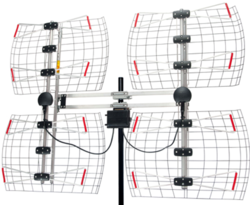 St. Louis, MO (PRWEB) February 18, 2013
Staying true to their reputation as champions for over-the-air, Antennas Direct reinvents the multi-directional antenna with their latest invention—the all-new DB8e. The extended long-range antenna, which employs the highest gain and signal range of any HDTV antenna, is now available exclusively through antennasdirect.com.
"People are now afforded the opportunity to receive free, first-class programming from a variety of different channels—no matter the market," said Richard Schneider president of Antennas Direct. "The unmatched signal strength significantly reduces a majority of the signal hurdles that come with an attic antenna installation, making the DB8e an installers dream antenna."
The multi-directional antenna has the highest gain of any outdoor antenna on the market today. Its superior signal range, which extends over 70 miles, is powerful enough to not only pick up a transmitter from a great distance, but offers the flexibility to turn in a 360 degree loop to target towers from multiple directions.
Order the all-new DB8e antenna today exclusively at antennasdirect.com. As for Canadian distribution,Save and Replay will begin shipping out the DB8e by the end of February.
About Antennas Direct
Antennas Direct is the leader in antenna technology, reinventing the antenna for the digital era. With a heritage in over-the-air antennas specifically tuned for core DTV frequencies, Antennas Direct has invested major resources into the discovery and implementation of new antenna designs for digital reception. Founded in 2003, the firm is a member of the Inc. 500|5000 Hall of Fame and Future of TV Coalition. Visit antennasdirect.com for more information.