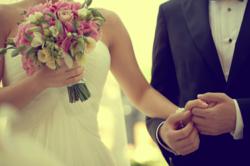 Newport Beach, CA (PRWEB) February 18, 2013
The search for the perfect wedding venue is by no means a simple task. Wedding.com experts admit that sometimes couples have to turn to the most unusual of places like one particular Californian couple did when they chose Home Depot.
Thousands of couples search tirelessly in an effort to find a wedding venue they deem perfect for exchanging vows, but what happens when their search yields nothing satisfactory? Brian and Brooke Blackmore from Southern California turned to their local Home Depot instead. The couple had gotten both engaged and married there ten years prior and were happy to renew their vows in yet another Home Depot store (http://temecula.patch.com/articles/couple-renews-wedding-vows-at-home-depot-in-temecula). Wedding.com experts warn, however, that anyone with the desire to marry at a place that is not an actual wedding venue should be prepared to have their request denied, as it is up to the store's management team. Hiring a wedding planner that may be able to convince management otherwise is key.
"Restaurants, halls, and other typical wedding venues simply do not cut it for some couples. Unconventional venues like Home Depot may be difficult to attain, so it might be beneficial to hire a wedding planner that is prepared to go up to bat for you," says Brett Reynolds, CEO of Wedding.com. "Home Depot is a special place to the Blackmores. It is great that they had the opportunity to get married there years ago and even more wonderful that they received another opportunity ten years later to renew their vows in the store."
For more information about Wedding.com, please visit http://www.wedding.com.
About Wedding.com
Wedding.com is an innovative new website that connects engaged couples planning their wedding with wedding vendors looking to grow their business. Wedding.com contacts vendors for couples, giving them the power to compare and negotiate while ultimately saving time and money. With 12,000 couples and 22,000 vendors currently using the website, 105,000 proposals have already been sent since their inception. Vendors range in services from wedding planners, photographers, florists, and DJs to custom invitations, party favors, and much more. For additional information about the company and its services, please visit http://www.wedding.com.