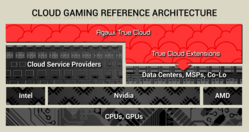 Menlo Park, Calif. (PRWEB) February 19, 2013
This week at the Cloud Gaming Europe conference in London, Agawi's executive chairman, Peter Relan, will unveil the first industry-wide cloud reference architecture to seamlessly integrate the fast growing but fragmented cloud ecosystem, made up of various hardware, servers and service providers. Agawi True Cloud is designed to unify all the components of this sophisticated ecosystem, from GPU and server manufacturers to cloud service providers, in order to make cloud gaming a reality for game publishers. Now publishers can create one version of a game for the cloud via Agawi CloudPlay™.
"The previous iterations of cloud gaming have relied on piecemeal efforts and proprietary designs," said Agawi co-founder Rajat Gupta. "And in today's infinite-device landscape, developers that don't create numerous versions of their games have been struggling to get maximum distribution and reach. Agawi True Cloud requires only one version of a game to ever be written in the cloud, and we can make it accessible on any post-PC era device—meaning that one game can reach an exponentially larger audience on tablets, phablets, TVs and next generation game devices like Project Shield."
With over four million gamers and 250 million minutes streamed thus far, Agawi is now opening up the cloud even more by integrating True Cloud with NVIDIA's groundbreaking new GRID processors that allow up to 12 parallel GPUs. GRID excels in graphics quality and can serve dozens of game streams simultaneously from one server, providing an economic solution with the power to revolutionize the entire market.
"By incorporating GRID servers, Agawi's True Cloud is realizing the dream of gaming on any device, anywhere," said Phil Eisler, general manager of NVIDIA GRID cloud gaming at NVIDIA. "The 12 GPUs found inside GRID K340 servers are designed to enable the smooth, seamless interactive experience of a high-performance gaming PC on mobile devices and unlock the cloud as the universal vehicle for fast and economical gaming."
Blue Box, PEER 1 and XO Communications have partnered with Agawi to streamline across cloud service providers, management service providers and colocation centers. The True Cloud architecture will eliminate heavy data storage and costs, making it increasingly affordable for game publishers to stream their games and for users to play titles instantly, from social to mid-core to AAA.
Agawi now has over two years of experience operating its cloud gaming service on tablets, working with managed service providers like Blue Box.
"We're excited to partner with Agawi on their True Cloud architecture. With the explosive growth of tablets, mobile and smart TVs comes equally explosive growth in the cloud gaming industry," said Jesse Proudman, CEO of Blue Box. "That explosion brings added complexities to an already complex ecosystem; from GPU manufacturers to cloud service providers to game publishers. True Cloud promises to connect all the players in a seamless manner, allowing for much simpler cloud gaming adoption. Blue Box is proud to continue its tradition of industry innovation by partnering with Agawi."
By integrating across multiple service providers, Agawi True Cloud is exponentially increasing the number of streams that will be available to gamers, ensuring a high-speed gaming experience.
"Agawi is pioneering instantaneous availability in the gaming industry and PEER 1 Hosting is pleased to support the company in its mission to offer a seamless gaming experience," said Robert Miggins, SVP of Business Development for PEER 1 Hosting. "Our on-demand cloud is powering Agawi True Cloud—a real industry first—in multiple data centers. We are proud to work with this innovative company and help provide a unique infrastructure solution for gaming customers."
True Cloud is ultimately designed to create a one-stop experience for game publishers and developers, as well as gamers.
"We are very pleased to work together with Agawi to support its unified cloud architecture for gaming," said Don MacNeil, chief marketing officer for XO Communications. "We know that when it comes to delivering superior experiences for online gaming, gamers expect to connect immediately and become fully immersed in the game. Agawi's decision to select XO is a testament to the performance and quality of the XO network and our ability to help Agawi deliver quality gaming experiences anytime, anywhere."
Along with these partners supporting its new reference architecture, Agawi's True Cloud can offer as many cloud gaming streams as users need, and the company expects to see the price point continuing to decline dramatically over the next few years—as the industry's sales are on an upswing. Research firm Video Games Intelligence predicts that the games streaming industry will reach $8 billion in sales by 2017.
Potential partners and press interested in learning more about Agawi's True Cloud can see their Cloud Gaming Europe sessions at the Thistle Marble Arch Hotel in London, at 11:45am on Thursday, February 21, and 10:30am on Friday, February 22.
Interested partners can also contact Agawi at partners(at)agawi(dot)io.
About Agawi:
Agawi, focused on the mission of delivering "Any Game, Any Where, Instantly," provides high-performance, scalable and cost-effective cloud gaming solutions through its state-of-the-art streaming technology for post-PC-era devices, such as tablets, TVs, and STBs.
The Agawi CloudPlayTM platform enables all genres of games, from casual to mid-core to hardcore, by leveraging an open, true cloud-based architecture easily deployed on any cloud service provider. Available for gaming publishers, network operators, OEMs and indie developers, Agawi CloudPlay supports multiple B2B business models.
Based in Menlo Park, CA, Agawi was founded by Silicon Valley veteran entrepreneurs and spun out of the YouWeb Incubator in 2010. It recently won a Best in Biz award for fastest-growing small company.