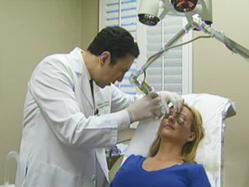 I expect to see tremendous growth in the area of minimally-invasive treatments. The technology that's coming online and pending FDA approval is amazing.
Los Angeles, California (PRWEB) February 16, 2013
According to a recent NBC News article, the global market for plastic surgeries such as breast augmentation and liposuction and non-surgical treatments such as laser skin resurfacing and Botox injections reached a combined $6 billion dollars in 2012. (Go to: goo.gl/hqB3T)
It is predicted that the strongest growth in 2013, 14 percent, will be in the Asian market where nose and eyelid surgeries are popular. The European market is expected to grow at a 6.6 percent rate.
Dr. Simon Ourian, Medical Director of Epione Medical Corporation in Beverly Hills, has witnessed first-hand the rise in demand for aesthetic procedures. "The demographics reported in the story are reflected in our clientele," says Dr. Ourian. "We saw a rise in the number of patients visiting us from all over the world in 2012, and that trend seems to be holding in 2013."
According to the just released French report, despite a faulty implant scandal, there is an expected 5.2 percent increase in the number of women who will request breast augmentation between 2013 and 2017.
Demand for cosmetic surgery procedures such as breast augmentation and liposuction and minimally invasive options is only expected to grow as physicians discover new and innovative ways to meet the needs of their patients.
"I expect to see tremendous growth in the area of minimally-invasive treatments," says Dr. Ourian. "The technology that's coming online and pending FDA approval is amazing."
Dr. Ourian has been a pioneer of laser technology and non-invasive aesthetic procedures including Restylane, Juvéderm, Radiesse and Sculptra. These treatments are used for the correction or reversal of a variety of conditions such as acne, acne scars, skin discoloration, wrinkles, stretch marks, varicose veins, cellulite, and others. More information about plastic surgery can be found on their website