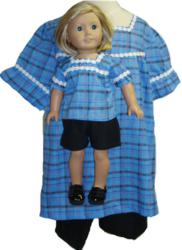 We remain committed to offering the largest selection of handmade doll clothes online at the most reasonable prices," said Mary Ann Walsh of Doll Clothes Superstore
(PRWEB) February 18, 2013
Tolland, CT (February 18, 2013): Doll Clothes Superstore is proud to announce that its online home, DollClothesSuperstore.com, has been given the title of "Gold Certified" by GoProRanking. This title means that DollClothesSuperstore.com has received more visitors to its site than 99 percent of the other Web sites that GoProRanking indexes. This achievement has placed DollClothesSuperstore.com into GoProRanking's domain hall of fame.
DollClothesSuperstore.com is intuitive, user-friendly and updated regularly. The web site offers easy to use drop down menus so that customers could learn more about the various doll clothes on the site. There are two easy methods on the web site for customers who have questions: a customer phone number is visible on the home page on the upper right corner and there is a "contact us" link which opens an email direct to customer service. Questions are answered quickly so that customers can feel confident in their selections. The web site also offers an easy and secure three step check out for those customers who wish to place their orders online. The site also has a shipping calculator so customers can estimate what their shipping costs will be prior to checking out.
DollClothesSuperstore.com also has a link to its blog, where customers can read up on the latest news, products and information that the company has to offer. The blog is just another way that the web site keeps its content fresh and up to date.
"I am thrilled that DollClothesSuperstore.com has been selected into the domain hall of fame by GoProRanking. We know customers will look forward to exploring all that DollClothesSuperstore.com has to offer. We will continue to keep the site intuitive and user-friendly and we welcome all comments and suggestions from our customers. We remain committed to offering the largest selection of handmade doll clothes online at the most reasonable prices," said Mary Ann Walsh of Doll Clothes Superstore.
Doll Clothes Superstore is an online-based doll clothing company, committed to providing top quality merchandise at affordable prices. Doll Clothes Superstore has doll clothes for the most popular brands of dolls on the market, like Barbie and Ken, GI Joe, American Girl dolls, baby dolls, including Bitty Baby, My Twinn and Cabbage Patch Kid dolls, Beanie Babies, and stuffed animals. In addition to this, Doll Clothes Superstore also offers doll accessories such as shoes, jewelry, hair clips, umbrellas, and hangars, as well as matching girl and doll clothes. Doll Clothes Superstore is independently owned and not affiliated with any doll manufacturer.