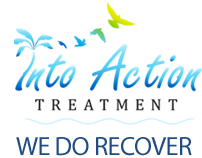 (PRWEB) February 15, 2013
Into Action Treatment, a small 24 bed coed drug rehab in South Florida, has hired a new Public Relations coordinator. Kevin McLoone is not just another employee for Into Action, he is also an alumnus of the treatment center, having successfully completed the program and rebuilt his life. To complete the program, clients must remain clean and sober and work the 12 steps as they are laid out in the Big Book of Alcoholics Anonymous. This method is called the Hyannis format and is a very stringent process, where an alcoholic or drug addict takes a very honest and sobering look at their life and possibly for the first time, their part in things.
Andrey Rossin, the founder and CEO of Into Action Treatment says, "We are so proud of Kevin and how he has turned his life around. He is another great example of how this process can work and turn around someone's life." Kevin McLoone is the 3rd alumni to be hired by Into Action, which is something that Rossin and the other staff are very proud of. To them, it shows that their program works and that there is a life after drug addiction. Rossin said his goal is to hire alumni completely and have them work at the center, because they are able to relate to the clients the best, having gone through the same rigorous process and internal work all of the clients go through.
Having just turned 1 year old, Into Action is starting the New Year off strong and Kevin McLoone looks to add a key piece to the center. His job will be to connect with the community and handle all PR for the center in the Boynton Beach, Florida, area. Boynton Beach is right next to what some call the rehab capital of the world, Delray Beach, FL, having the highest concentration of rehab centers in one area. There is a lot of recovery in the area and McLoone will be able to reach out to the community and help Into Action Treatment make a difference. They already are making a huge difference in their short time in business and Andrey Rossin hopes to further his vision with the center this year and for many more to come. "I am so excited to have Kevin joining our team, and know that he will be able to help out in the center and in the community. To me, he is living proof that anyone can recover from addiction and live a happy and fulfilling life in recovery." Rossin hopes to have many more examples like Kevin come through his doors.
For more information about Into Action Treatment you may visit their website, or contact them 24 hours a day at 1-855-933-6732